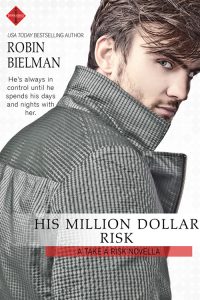 Take a Risk Series
Publisher: Entangled Publishing
Genre: Contemporary Romance
ISBN: 978-1-633751866
A sexy category novella from Entangled's Indulgence imprint.
Determined to make his latest preservation project on Route 66 a success, Connor Gibson will take any good press he can get. Even if it means spending a week with a reporter. And even if it's one from a publication he has good reason to hate. Connor certainly isn't expecting a spontaneous and undeniably attractive blonde who makes him seriously hot for the press…
Charlize Beckett is in deeeep trouble. This is her one chance to prove to her publisher dad that she's a serious journalist, even if she has to pretend she's someone else. Worse though, is trying to maintain any objectivity with the way too charming Connor. She can't help but get into all kinds of sexy trouble with him. But by going off the record, Charlie is putting both her reputation and her heart on the line…
Purchase in Digital/eBook format:





Connor's gaze whipped pleasure through her almost as hotly as his hands and mouth did. Flecks of silver sparkled in those gorgeous eyes of his and their attention traced over every inch of her with desire.
She pressed up, scooted her bottom to the edge of the bed, and went for the button of his jeans. "These need to come off."
One of his hands covered hers while the other lifted her chin. Their eyes locked and then he bent and kissed her. The slow, deliberate kind of kiss. The kind that made her heart beat out of her chest because there was feeling behind it. Care.
He let out a groan and stood, made fast work of his zipper and shucked out of his pants and boxer briefs. His shoes and socks somehow came off in the process, too.
Charlie swallowed. He was gloriously sexy. The hottest man she'd ever seen with his sculpted chest and abs, narrow waist, long muscular legs dusted with dark brown hair. Her gaze roamed over every inch of him before settling on his erection. It was big, thick, and hard for her. Her mouth watered in anticipation.
She reached out to touch him but his hands moved to her waist and with quick speed and strength, he lifted her up and planted her farther back on the bed.
"You don't mind if I taste first, do you?"