Hey there! Happy June! Let's kick off the month right shall we? I'm so happy to share that my awesome publisher, Entangled Publishing, is offering a very special Steal & Deal! (Well, special to me.) For one week only my debut book, WORTH THE RISK, is FREE! And for a limited time the second book in my Take A Risk series, RISKY SURRENDER, is only .99 cents!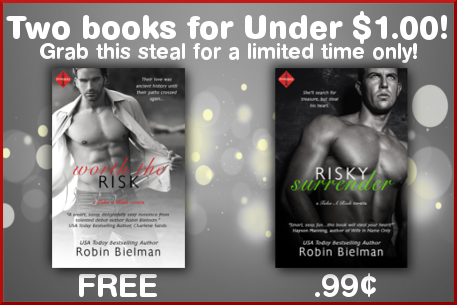 WORTH THE RISK is about Sam and Dean (not the Supernatural duo). They spent a summer together after college and now five years later, they're face to face again vying for the same job.
Their love was ancient history…until their paths crossed again
Samantha Bennett put Dean Malloy out of her mind five years ago, when he broke her heart after a summer fling. But now he's back in her life, and ready to steal a heritage protection contract that could make or break her career–if he doesn't steal her heart first. Samantha's vowed to hate him, but it's more than anger heating the competition between them.
With sparks flying across the conference table and sizzling in every touch, Dean proposes a weekend liaison. Anything to have Sam again; anything to get her out of his system. But the unresolved feelings between them complicate both their personal and professional lives, and one wild weekend could turn into a disaster that would destroy the one job that means more to Samantha than anything. For a shot at love…is it worth the risk?
This book has a really special place in my heart because it was my first one. When I sat down to write it I got to thinking about what my favorite part of any story was and I realized it's the first kiss. That magical moment when two people can't keep their hands – or rather mouths – off each other. <sigh>
So, since Sam and Dean's first kiss takes place five years before the novel opens, I wanted their First Kiss after they meet up again to be really Something. It takes place in a bar and involves a hot sauce game. Here's a peek…
He cupped her cheek and looked deep into her eyes. "One kiss, Sam. I dare you."

Damn him. If she didn't agree, he'd think he won something here, and she couldn't let that happen. She couldn't let him beat her over a silly kiss. Especially if he thought his kiss would distract her from the reason she was in town.
"Fine. I'm game."
Whistles and sighs echoed around their corner of the bar while Joe grabbed two bottles of hot sauce off the table. "The rules are"—he looked at Sam as he spoke—"time starts when I say go. Your lips must stay in contact. Tongue is optional. As soon as you part, time stops. Ready?"
With eyes stuck on each other, they nodded. Joe stood over them with a bottle of sauce in each hand and they simultaneously tilted their heads back to receive several drops on their tongues.
"Go!"
I hope you'll check out how the kiss went and then go on to read about McCall and Lucy in Risky Surrender.  And I'd love to hear about your first kiss! Was it worthy of a second one or did it leave you with a bad taste in your mouth. hee hee Leave me a comment and you'll be entered to win a Take A Risk Chick T-shirt. The awesome Samanthe Beck has got one and we all want to be like her don't we? (Thanks, Samanthe, for rocking the shirt and modeling for me!) For all the giveaway details (and chances for extra entries) check out the Rafflecopter below. Two winners will be chosen!
Buy links for Worth the Risk:
Amazon     Barnes & Noble

Buy links for Risky Surrender:
Amazon     Barnes & Noble

SPECIAL THANKS to Ramblings From This Chick for helping me celebrate today, too!