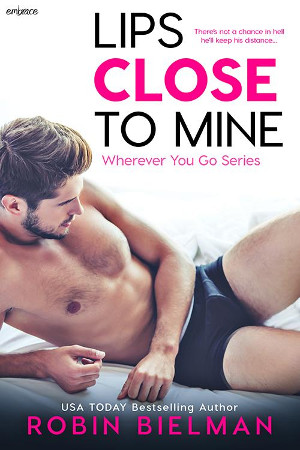 Title:
Lips Close to Mine
Series:
Wherever You Go #

2
Genre:
New Adult
Add to
Goodreads
I wasn't supposed to see Levi Pierce ever again. A few months ago, we had one incredible date. One. That's how I like it.

End of story.

Only it wasn't. Pretty soon everywhere I turn, I see him. Our best friends are dating. My mother mistakenly—and happily—thinks he's my plus-one to my cousin's wedding. And he's the guy I have to work with on the most important job opportunity of my life.

Here's my problem: I like Levi. I like his killer smile, his dreamboat eyes, and definitely the way he makes me feel. But I've sworn off relationships. So when the sexual tension reaches epic proportions, I tell myself it's temporary. When I start to feel more, I tell myself it's over.

Only Levi isn't a forget-it kind of guy. When his lips are close to mine, and he swears he's always wanted me, my defenses disappear. But he's heading off to new adventures an ocean away, and some things in life just aren't meant to be.

Right?
Buy the Book:






Also in this series: