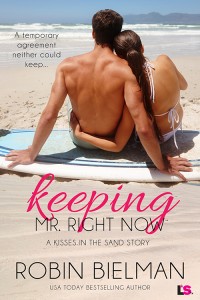 Keeping Mr. Right Now
A Kisses in the Sand Novel, Book One
Entangled Publishing
Genre: Contemporary Romance
A temporary agreement neither could keep…
Surfer Zane Hollander has always been lucky with the ladies. But if he's to land a new sponsor, Zane needs to clean up his act, and fast. He might not have anything in common with brainy event planner Sophie Birch, but she's sweet and respectable—exactly what he needs.
 Sophie's never set foot on a beach, let alone left her hometown…until now. What does a sex-on-a-surfboard celebrity like Zane see in a klutzy bookworm like her? Oh, right. Nothing. Their relationship is purely fictional. And Zane is supposed to be on his best behavior. Sigh.
But the more Sophie blossoms under the beachy sun, the more Zane fears he'll just break her heart. And this time, he's found a heart he isn't willing to break…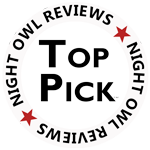 2015 Readers Crown Finalist from RomCon! 

"Hey. Sorry about losing you."
"You didn't lose me. I left."
That she did. "Can I come in?"
She hesitated a moment. "Uh, sure." She stepped aside and he entered the large room with an ocean view. The sliding French door was open, and the gravitational pull of the beach led him to the patio.
"Nice view," he said over his shoulder.
"It really is. This is the nicest place I've ever stayed at. Not that I've stayed in very many places." She came up beside him, and her cinnamon sugar scent teased him.
He wanted to taste her. Eat her up.
"Is this your first time seeing the ocean, too?"
"Yes," she whispered like she was embarrassed about it. "And I'm sorry I didn't tell you that before our lesson the other day."
"No apology necessary. I'm pretty impressed you did what you did."
"Really?" Delight wiped out her shame, coaxing big-ass smiles out of them both.
"You're a lot tougher than you look." He turned his head toward the ocean, afraid that if he looked only at her, he'd do something stupid. Bikini-clad women dotted the beach, but not one sparked his interest like the woman next to him. Especially now that pink colored her cheeks. He wanted to take her full bottom lip between his teeth, kiss her, slip his tongue inside her mouth, and once he'd had his fill, lick his way down her body until—
"What about you?" She curled up on one of the cushioned patio chairs.
"What about me?" He took the other seat, stretching his legs out and situating himself for an easy view of the beach through the iron slats of the patio railing.
"How would people describe you?"
Her question drew his undivided attention. "Depends on who you ask." He smirked. "Women and men have very different opinions of me." The sun glittered off her auburn hair, casting a radiant halo. "All good, mind you."
She rolled her eyes. "Do you ever get tired of it?"
"It?"
"The fame. Being recognized everywhere you go. Having to always wear a certain image."
His heart beat a little faster. The image he shared with the world was far from the guy his family and close friends knew. He got the feeling from Sophie's warm, interested eyes that she really wanted to know what made him tick. In his world, women only wanted to know how to get in his board shorts, so it took him a minute to process her curiosity.
And damn if it didn't bother him that she apparently didn't want in his pants.