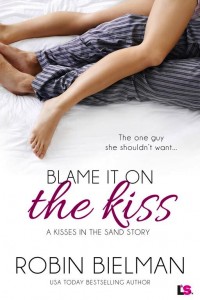 Blame It On The Kiss
A Kisses in the Sand Novel, Book Two
Entangled Publishing
Genre: Contemporary Romance
The one guy she shouldn't want…
Honor Mitchell has never finished anything she's started, but she's determined to finish her best friend's bucket list before it's too late. No way will she let a man compromise her mission—especially not her best friend's ex, who is just as determined to help tick items off Honor's list.
Bryce Bishop is done being Mr. Nice Guy. His trust in women is shot, but after kissing Honor—a kiss that ended as soon as they realized the other's identity—he needs some closure. He'll help Honor, then move on with his life. End of story.
He and Honor are completely wrong for each other, but with each task they cross off the list, wrong starts to feelright. But Bryce is in a no-win situation, because suddenly being the do-good guy has put his plans—and heart—in serious jeopardy.

"I think game time's over."
"I think the only game that comes to my mind that's played in a closet with a beautiful girl has got to do with kissing. Seven Minutes in Heaven or something like that. And since we are in the wedding party, it's our duty to follow through, right?"
He thought she was beautiful?
Tingles swept over her lips and down the backs of her arms.
"Am I right?"
She cleared her throat and told her body to ignore any more tingles, quivers, flutters, shivers, trembles, prickles, or shudders he might instigate. Bryce belonged to her best friend, even if she wasn't here to claim him. "Yes, it's a kissing game. But the rules say one minute."
"So you planned to kiss the guy that found you in here?"
"Yes."
"On the mouth?" he asked, surprised.
"Yes. But no tongue."
The small space between them dissolved as he canted his head down to talk in her ear. "I think it's our obligation to play, Honor. It's just a game, so can I kiss you?"
YES! Her traitorous body shouted as his husky voice made her toes curl. Then, like he had some magic mojo, she put her arms around his neck. Her hands should not have been anywhere but at her sides, dammit. She reasoned the dark had something to do with it. Because she couldn't really see him, she could pretend he was Theo James and this was her sixty seconds of pretend boyfriend kissing.
"We shouldn't."
"I know."
Maybe it was his agreement. Maybe it was her earlier desire to break her dry spell, to not leave the closet until she'd gotten a kiss. Whatever it was, she found herself pushing aside her guilt and wanting to finish the game she'd agreed to play.
"Okay," she said.
"You sure?"
God, did he have to be so careful with her? She touched her nose to his. "Yes."
"Plan on one minute in heaven, Honor."