This past weekend in my quest to try new things during October, my hubby and I ran in The Color Run. It was SO much fun! We had the best time and I loved getting sprayed with color during the 5k. Here's how it went…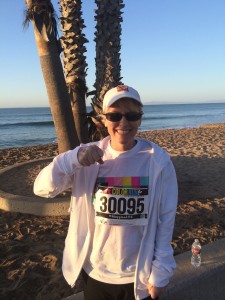 Here I am before the race, all nice and white. I was trying to show off my Color Run tattoo on my hand, but you can't really see it.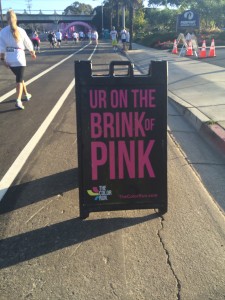 Signs like this signaled when color was coming. There were four colors: pink, yellow, purple and blue.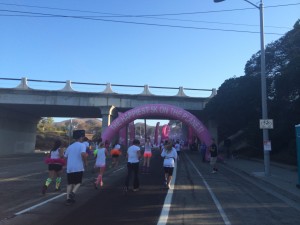 We ran under archways like this for each color and then got sprayed! Run volunteers held spray bottles of powered color and nailed us as we ran by. I was smiling the whole way! My hubby told me my teeth were blue and yellow by the time we finished the race.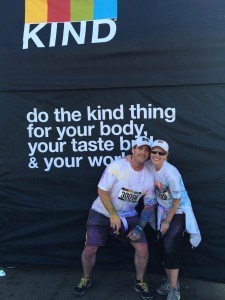 Here we are at the end of the race… but wait, there's more!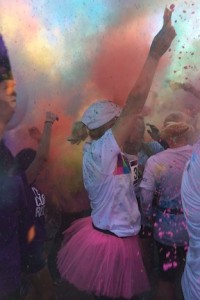 As fun as getting sprayed in color during the run, the real color happens after the race. With music blaring and color packets in our hands all the runners get to toss their own color and watch it rain down. It was crazy! One giant color fog!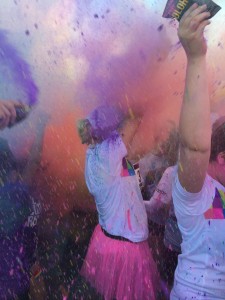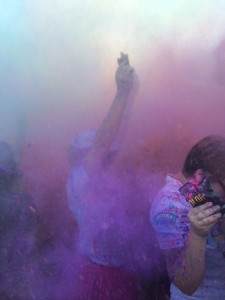 Holy crap, it was thick!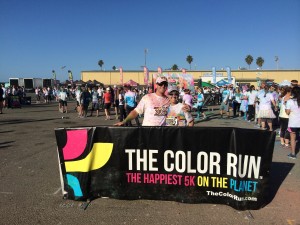 Once the fog cleared, we took one last picture and then headed to breakfast. Where I had this…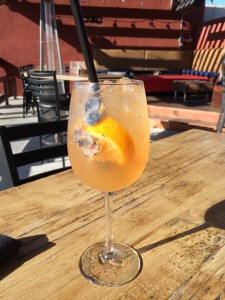 A yummy mimosa, only this was one new to me with peach and orange juices and fresh blueberries. We sat outside and it was the perfect end to a fun morning.
I highly recommend The Color Run!! It's very lo-key and if you're not a runner, that's okay. There were lots of people walking too. I can't wait to sign up for another one!
So… have any of you done anything new lately?