I'm so happy to have my friend JL Hammer take over my blog this week! Her newest release, NOTHING BUT TROUBLE is out today from Entangled Publishing and she's celebrating with a giveaway right here! The book sounds so great and I can't wait to read it! I hope you'll 1-click just like I did! Take it away, JL…
Thank you to the amazing Robin Bielman for hosting me on this exciting day. NOTHING BUT TROUBLE (Vegas Vixens series book #1) from Entangled Select Suspense is now out! And to make things even sweeter, for a limited time the book is on sale for only .99 cents! I loved writing this story because it has high-stakes danger and a sinfully hot deputy sheriff. I don't know about you, but I find a man in uniform absolutely tempting.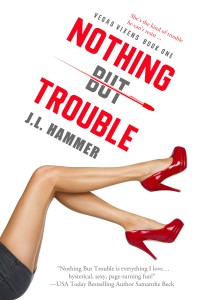 She's the kind of trouble he can't resist …
With an angry loan shark hot on her heels, Frankie Delenski flees a Vegas gentlemen's club with one thought in mind: hide before she's nothing more than a chalk outline. Now on the run…she finds herself stranded in a sleepy Colorado town during a storm. Her only salvation becomes the suspicious and gorgeous deputy sheriff determined to arrest her…
From the get-go, Wes Malone must restrain his lust for this stunning, unpredictable woman in a sequined bra and rely on his instincts as a cop. As he sifts through the haze of lies, the truth about her predicament is like a sucker punch to the gut. She's in serious danger and getting involved with her means nothing but sweet, irresistible trouble…
Find all the BUY LINKS and read the first chapter HERE!
Sneak Peak:
She took a moment to study the virile man before her. The strippers worked their clients into a mouth-drooling frenzy by a few shakes of their hips and a little lip-gnawing. If Frankie could work her charms on Deputy Malone, he would be at her beck and call. A strange thrill zinged through her.
With a sexy strut, she approached, giving him her best heated look. She brushed the tips of her polished nails across his chest. Hopefully, he hadn't noticed the mud smeared across her hands or her missing pinky nail. His dark brows lifted and his expression was…amused. Determination
squared Frankie's shoulders. With a thrust, she pushed out her well-padded female attributes.
"Can't we just forget about all this? Couldn't you just help me get my car out of the ditch and then let me go on my way?" She tried to purr, but it sounded more like she needed a throat lozenge.
"Are you hungry?" he asked.
She frowned and then remembered she was being seductive and smiled shyly. "Hungry?"
"Yeah. The way you keep chewing on your lower lip I figured you must be starving."
***
Giveaway Alert! Up for grabs is a $10 Amazon gift card! Thanks for stopping by and good luck!