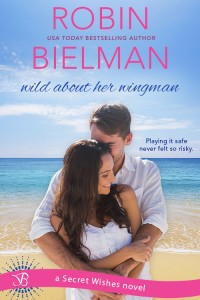 Secret Wishes Series
Book Three
Publisher: Entangled Publishing
Genre: Contemporary Romance
ISBN: 9781622665006
Available April 14, 2014!
Playing it safe never felt so risky.
Erin Watters is her small town's resident wild child—she doesn't do boring, and after having her heart annihilated, she definitely doesn't do relationships. Her friends have other ideas, though, and when they throw down a matchmaking challenge, impulsive Erin can't ignore it. Even when the annoyingly hot Troy Strieber accepts the matchmaker role…
As a rescue paramedic, Troy's used to watching out for people. Never mind the bet he made with his buddy to play Erin's wingman. But the more time he spends with the sexy, charismatic woman, the more he discovers a side of her she doesn't let many see. Soon what started as an innocent game of matchmaking has them both thinking about the person right under their nose. But Troy's a play-it-safe guy, and he won't let a woman who lives for risk ever steal his heart.
Buy in Digital/eBook and Print format:





"So, why don't you have a girlfriend?" Erin asked.
"What?"
"My question for you is, why no girlfriend?" She'd heard he'd moved back to Cascade to help his family out after his brother-in-law's passing and guessed between that and work, he stayed busy. But jeez, she didn't even really like him and looking his way set her on edge. Hot was a major understatement. And through the gossip mill, she'd heard that since Shane was now taken, Troy was the next highly-sought-after bachelor.
As far as she knew, though, he hadn't even been out on a date since returning home.
"Don't have the time," he said.
"You do know you're a major topic of conversation with the single girls of Cascade."
He rubbed the back of his neck, creases lining his forehead. "I did not know that." He looked away.
"That bothers you?"
"It does."
"I could spread a rumor that you're gay."
His attention popped back to her. "And have all the single guys of Cascade talking about me?" A slow smile spread across his face.
Erin wrapped her arms around her middle and laughed until she needed to catch a breath. "A few of them probably already are."
"I am pretty likable."
"I wouldn't know."
He raised his eyebrows. "Aaannnd that's my cue." He stepped back. "I'll let you know about Friday. Good night."
"Night," she said and hurried into her car before she did something stupid. Like say he was likable.