I am so excited to have my very dear friend, Marilyn Brant, visiting today. Welcome, Marilyn! And thank you so much for being here.
Marilyn's newest release, A SUMMER IN EUROPE, is in bookstores now, and she was kind enough to make me a stop on her amazing blog tour featuring some of the wonderful European cities from her personal travels – and the pages of her book. ("Brant's charming and engaging tale will allow readers to immerse themselves in the magic and beauty of Europe along with the characters. Although the descriptions of the scenery are amazing, the development of the characters and their unique personalities are what really make this novel shine. What an enjoyable escape!" ~Romantic Times)
I couldn't be happier or more delighted to let Marilyn take us away to Salzburg….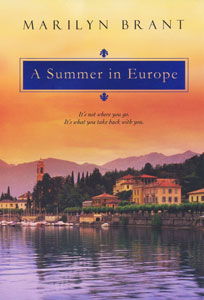 A Summer in Europe: The Hills Are Alive in Salzburg
First of all, MANY thanks to Robin for inviting me here today. I love getting to visit my friends on the web, and it's a treat to be back as a guest on her blog!!
My third women's fiction book, A Summer in Europe (http://tinyurl.com/3qk8nt8), just came out at the start of the month. It's a story about a junior-high math teacher named Gwen, who gets a month-long grand European tour as a 30th birthday gift from her eccentric Aunt Bea and her aunt's Sudoku-and-Mahjongg Club. Gwen has never had an adventure overseas before—she's rarely ever even left the Midwest—so each day of her trip brings with it a rush of new experiences, and they often make her question what she thought she wanted out of life or thought she knew about herself.
Well, as some of you may know, I've been celebrating this new book by taking a journey around the web to share some of my favorite European sites and to explain how my own real-life memories from visits abroad influenced the writing of this novel. What most of you might not know is that it was an email conversation with Robin that first gave me the idea to do this!! (Hugs and thanks to you, lovely Ms. Bielman!) The place I get to talk about today is where I saw one of the most breathtaking vistas in all of our travels—high up in the Alps surrounding Salzburg—and it's also the spot where I got to get a little closer to two of my musical idols: Julie Andrews and Wolfgang Amadeus Mozart.
Now, I should tell you, I saw The Sound of Music for the first time when I was in 3rd grade, and I immediately wanted to be Maria von Trapp and/or Julie Andrews. (In my young mind, they were interchangeable…although, I'll confess, I did not want to be a nun, but I pretended I was the later Maria/Julie, when she was frolicking around Salzburg with the kids and singing songs about goatherds…) The Alps looked absolutely stunning onscreen, and I'd dreamed from that night onward of someday getting to see them for real.
So, fast-forward about 15 years: a couple of months after my husband and I got engaged, we took a trip to Europe and ended up staying in the city of Salzburg for five days. (This was the longest we spent in any one city during our first summer's backpacking excursions, btw, but we discovered really inexpensive lodgings and there was just so much to do!) At the youth hostel where we were staying, we met a couple our age from Australia, and the four of us hiked up to Hohensalzburg Castle, a fortress built on a hill that dominated the view of the city. We walked through the town of Salzburg, visiting Mozart's birthplace/home, taste-testing weisswurst sausage that was grilled and sold in one of the squares, and window shopping while student musicians played their violins on street corners.
And we went on two tours—the first was The Sound of Music tour, complete with a trip to Mirabell Gardens (used in the "Do-Re-Mi" song from the film), the gazebo ("Sixteen Going on Seventeen"), and the lake, which is shown in the photo that somebody snapped of my hubby and me. It was used on the set as the backyard of the von Trapp family home in the movie. (Remember the falling-out-of-the-canoe scene?!) I couldn't stop humming "the hills are alive…" for an entire week.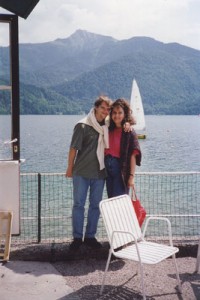 Many people also go to the salt mines when they visit Salzburg, and we considered that. Perhaps, if we ever get there again, we will, too. But my husband, with his background in world history, knew of a place he wanted to go for our second tour, and it was a site that turned out to have some of the most beautiful mountain views I'd ever seen—The Eagle's Nest. Technically, it's not in Austria, although our tour departed from near Mirabell Gardens, but it's located just across the border into Germany. There's a building atop the mountain that once belonged to Hitler as a retreat before it was captured by the Allies in WWII. I don't remember much from the interior of the building, though, because I was so blown away by the mountains surrounding us. I spent most of my time at the top wandering around outside and just gazing at them in awe!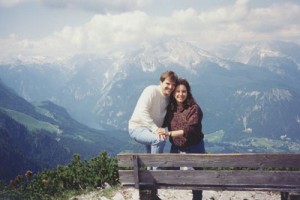 I couldn't highlight all of the places we visited on my heroine's tour of Europe, but I specifically included The Sound of Music and The Eagle's Nest tours because I felt they would be sites her tour guide would have taken the group and, also, because they simply were—wait for it—a few of my favorite things, LOL.
What are a few of YOUR favorite things? Foods you've tried, places you've visited, activities you've enjoyed, etc…? (I'll give away one A SUMMER IN EUROPE t-shirt and a luggage tag to one of today's commenters. ;)
Robin here… And I'm throwing in a copy of A SUMMER IN EUROPE! So one lucky commenter will win the book AND a t-shirt and luggage tag! The giveaway is open through Tuesday, December 13th. I'll post the winner on Wednesday, December 14th.

If you've got a case of winter wanderlust like me, my book tour/grand European adventure is in progress with most of the "trip itinerary" below:
Friday 11/25: Rome at Magical Musings (http://magicalmusings.com)
Monday 11/28: Pompeii at SOS Aloha (http://sosaloha.blogspot.com)
Tuesday 11/29: Isle of Capri at the Stiletto Gang (http://thestilettogang.blogspot.com)
Wednesday 11/30: Venice at Girlfriends Book Club (http://girlfriendbooks.blogspot.com)
Thursday 12/1: Budapest at Women's Fiction Writers (http://womensfictionwriters.wordpress.com)
Friday 12/2: Florence at Writer Unboxed (http://writerunboxed.com)
Monday 12/5: London at Austen Authors (http://austenauthors.net)
Tuesday 12/6: Salzburg at Robin Bielman's blog (https://robinbielman.com/blog)
Wednesday 12/7: Lake Como at Brant Flakes (http://marilynbrant.blogspot.com)
And I'll be featuring other cities in the days and weeks following, too, such as Pisa, Vienna, Brussels and Paris. (The full list of travel stops will be updated through the month on my website: http://www.marilynbrant.com .) I hope you'll join me for a few other cities on the tour!! And if you'd like to read an excerpt from A Summer in Europe, which is a Literary Guild and Rhapsody Book Club featured alternate selection for December 2011, you can find one here:  http://www.marilynbrant.com/MBbooksEURO.html
Thanks, again, to Robin and to all of you, and best wishes for the start of the holiday season!
~Marilyn
Praise for the novel:
"Brant's newest…distinguishes itself with a charismatic leading man and very funny supporting cast, especially the wonderful elderly characters with their resonant message about living life to the fullest." ~Publishers Weekly
"Marilyn Brant's A Summer in Europe is a wonderful tale that captivates readers as Gwen, transformed by her surroundings, undergoes a change of heart about life…and love." ~Doubleday Book Club
"How I wish I were on this European tour with Marilyn Brant's winsome, wonderful characters. I loved every minute of this delightful novel, from the breathtaking sights to the deliciously described food to the thrilling new experiences." ~Melissa Senate, bestselling author of The Love Goddess' Cooking School and See Jane Date
"A Summer in Europe is Brant's best book yet. A thinking woman's love story, it swept me away to breathtaking places with a cast of endearing characters I won't soon forget. Bravissima!" ~ Susan McBride, author of Little Black Dress and The Cougar Club
"Marilyn Brant has done it again: she has crafted a warm and wise novel filled with characters that live on in your imagination. Make sure your passport is in order. After reading A Summer in Europe you'll want to book your flight immediately!" ~ Laura Moore, author of Remember Me (The Rosewood Trilogy)
"Reading a Marilyn Brant book is like eating a piece of rich chocolate – it gets you excited, it's deliciously satisfying, and it leaves a smile on your face after you've finished it!" ~Simone Elkeles, NY Times & USA Today bestselling author