Next month I'm participating in Lucy Monroe's Online Reader Retreat. It's a first for me and I'm thrilled to be included with so many amazing authors. I'm not sure what to expect, but I do know this ~ if you're a reader, you won't want to miss it. There are lots of fun things planned, and the best part? It's free! All you have to do is register.
So what are you waiting for? Go check it out here.

On another note, I want to give a big shout out to my editor, Adrien-Luc Sanders! His debut novella, FROM THE ASHES is out now from Entangled Publishing. Congratulations, Adrien! And you guys! He's got one heck of a giveaway going on. You can find the details here. I hope you'll check it out.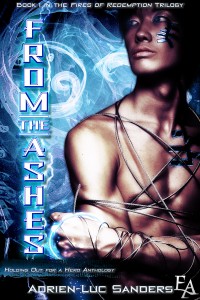 Sociopath. Killer. Deviant. Monster, devoid of morals, incapable of human emotion. The villain known as Spark has been called that and more, and as a super-powered aberrant has masterminded countless crimes to build his father's inhuman empire.
Yet to professor Sean Archer, this fearsome creature is only Tobias Rutherford—antisocial graduate researcher, quiet underachiever, and a fascinating puzzle Sean is determined to solve.
One kiss leads to an entanglement that challenges everything Tobias knows about himself, aberrants, and his own capacity to love. But when his father orders him to assassinate a senator, one misstep unravels a knot of political intrigue that places the fate of humans and aberrants alike in Tobias's hands. As danger mounts and bodies pile deeper, will Tobias succumb to his dark nature and sacrifice Sean—or will he defy his father and rise from the ashes to become a hero in a world of villains?
Oh, but there's more… I'm giving away one eBook copy of Adrien's book right here! Leave me a comment letting me know who your favorite superhero is and you're entered. I'll post the winner's name on Tuesday, September 18th. Good luck!
Thanks so much for stopping by!
hugs,
Robin