First off, I have some winners to announce! Winner of On One Condition is Cheryl. Congrats Cheryl! Winner of Table for One is Beth (P.). Congrats Beth! And the winner of the $25 B& N gift card is Cindy. Congrats Cindy! Please get in touch with me – robinbielman at gmail dot com – so I can get your prizes out to you pronto!
So, lately it seems I've left my brain someplace other than my head. I don't know if it's because I'm trying to do too much (I used to be such a good multi-tasker) or because I'm tired (that thing called sleep has been alluding me more frequently) or because I'm drinking too many cafe mochas (my new favorite beverage!).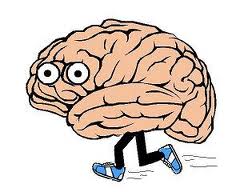 But whatever it is, it means I've done some or all of the following. Can you guess which ones?
1. While out to dinner with friends, we were talking about music and DJ's. One of the guys asked where the music comes from. I said the speakers. He cracked up. Everyone cracked up. I wanted to hide under the table.
2. In a wide expanse of beautiful green grass, I found and stepped into the biggest pile of dog sh*t imaginable. It's talent, I tell you, to not watch where you're walking.
3. I am so tired that when my thirteen-year-old asked if he could see his phone for a minute to text a friend (he lost his phone as a punishment) and I gave it to him (because I'm weak and tired and didn't want to argue) and then he gave it back, I didn't notice until the next day that he handed me back his iPod, not his iPhone. Sneaky devil.
4. I closed the back of my SUV on my car keys, breaking the remote alarm thingy.
Yes, I did.
hugs,
Robin