I'm so happy to give a shout out to my pal, Stephanie Monahan and her latest release, THE MEAN GIRL APOLOGIES. I'm currently sneaking in some reading when I'm not writing or at the day job, and I'm loving Natalie and Jack!
I adore the cover and here's more info about the book…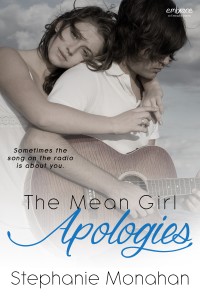 Sometimes the song on the radio really is about you.
You know that catchy song you keep hearing on the radio?
It's about you.
Natalie Jamison has spent five years trying to forget the girl she was in high school: popular, pretty…and, okay, mean. Now in her twenties and living once again in her small town, she's right back where she was: following Queen Bee Amber and keeping secrets from her best friend, Sarah.
Secrets like Jack Moreland.
Everyone knows Jack Moreland—his new album, Good Enough, is everywhere. He's famous. Impossibly handsome. Completely untouchable. But what none of Natalie's old clique knows is that in high school, Natalie and Jack fell in love. And their secret relationship was incredible, painful—and earth-shattering enough to inspire an entire album.
Facing friends and enemies isn't easy, but Natalie will go to great lengths to prove she is good enough—to her friends, to herself, and most of all, to the small-town boy turned worldwide heartthrob she never forgot.
You can grab this new adult novel here:
And add it to your Goodreads shelf HERE.
I'd love to know what you're reading! Leave me a comment, 'k? Because my TBR pile isn't big enough. hee hee Have an awesome rest of the week!