I'm thrilled to have my pal Kate Willoughby here today with an awesome post in celebration of her new release, On The Surface! Check out that cover! Yum! Okay, take it away, Kate…
I'm so excited to be here celebrating a shared book birthday with one of my favorite contemporary romance author buddies! Thanks for having me, Robin. I'm really looking forward to reading WILD ABOUT HER WINGMAN.
A book birthday isn't the only thing Robin and I are sharing. Our heroines are both named Erin! What are the chances?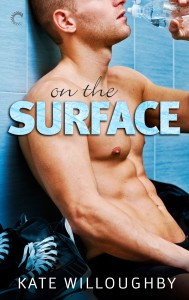 ON THE SURFACE, is the first book in my In the Zone series about the fictional San Diego Barracuda hockey club. Today, I'm going to take you on a little tour of the Barracuda's practice facility with the help Tim Hollander, the hero of ON THE SURFACE. Tim is one of the Barracudas' top forwards. In fact, last season he scored so many hat tricks, they started calling him Hat Trick Holly. He is a tough player though and he isn't averse to getting physical with someone if the situation is warranted. In fact, the day he and Erin met—
Tim: Hey now. Are you telling stories about me?
Me: Hi, Tim. Well, kinda. It is my job, you know. I was just telling them about how you took down that jerk who pushed Erin.
Tim: Oh, that. Um… [straightens his posture and begins reciting in a monotone] That was an action I apologize for and regret. I should not have punched that man in the face. There are other ways I could have dealt with the situation and next time I will make a better choice.
Me: [clapping] Well done.
Tim: Thanks. [He grins.] The PR guy made me practice that.
Me: So can we take your car for the tour?
Tim: Sure.
We get into his giant Escalade. He hops in with alacrity. Being under five feet tall, I have to do a little climbing. Soon we're on the road, heading downtown. Tim looks like you'd expect a professional athlete to look—fit and lean. I especially like admiring his sculpted arms.
Tim: So, hey, see that there? [He points.] That's the Marriott. When I first got traded to San Diego, I lived there for about three and a half months. It's a nice place. Great staff. Really good coffee.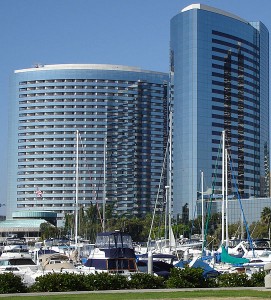 Me: But you moved out.
Tim: Yeah. I already spend a lot of time in hotels when we're on the road, but I just kept putting off finding a place. Eventually, I ended up renting…there. See that glass building over there? That's City View.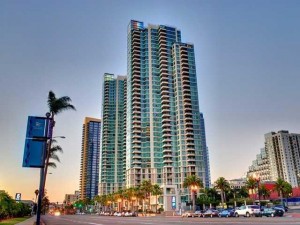 I know City View well. The luxury apartment complex is close to the three places the Barracudas frequent the most: the airport, the Mesa Arena, where they play, and the Barracuda Ice Center, their practice facility where we're headed now. The BIC has three ice rinks and is open to the public. We park and enter the building.
Tim: So, this is it. Here's where the players come in for practice.
The walls of the hallway are decorated with framed photographs of former individual Barracudas and teams. He shows me the locker room, the showers, the training room, the fitness center and the player's lounge, where we both get water from the refrigerator. There are a dozen different choices of beverage, mostly sports drinks.
Me: They want you guys to drink a lot, judging from this fridge.
Tim: Hydration's important for an athlete. In fact, look at this.
We walk quickly back to the men's room adjacent to the showers. He points to a small laminated chart on the wall next to the urinal. It shows different shades of urine and the corresponding level of hydration. The last color on the chart is brown. Like tree bark brown. I read what is printed next to that color.
Me: 'See a doctor?' [I laugh.] No kidding!
Tim: I know, right? Jesus.
Me: Can you show me the bench?
Tim: What, you don't want to hang out anymore in the bathroom? [He laughs.]
We exit the player's area and go out to the rink. It's really cold! There are some kids in hockey gear, practicing. As I am realizing there's nothing very interesting behind the bench, the kids notice Tim and they skate to their coach and chatter, pointing at us.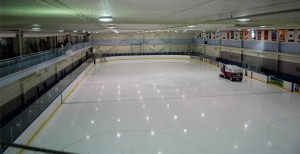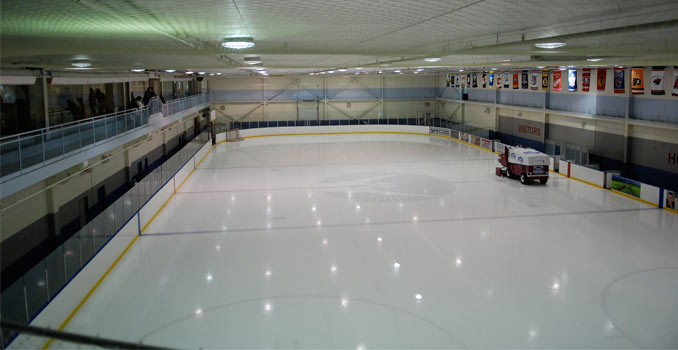 Tim: [chuckling] Here we go.
As the kids skate over, Tim approaches the waist high wall.
Tim: Hey, guys.
Boy: Wow! Tim Hollander! Cool!
Tim: Looking good out there. What are you guys practicing?
Girl: [smiling] Shooting.
Tim: Awesome. Want some tips?
All the kids go wide-eyed. They vibrate with excitement.
Boy 1: SURE!
Tim: You don't mind, do you, Kate?
Me: Not at all.
Tim makes his way onto the ice in his street shoes to join the kids and their coach near the crease—the blue painted area in front of the net. I smile. I'm shivering from the cold, but my heart is warm as I watch him help the boys and girls improve their technique. There is laughter and helmet patting and the sense that this guy really cares. Erin is a lucky woman.
Thanks, Robin, for inviting me here. I had a terrific time and I hope everyone enjoyed meeting Tim. We'd love to hear from you! Feel free to comment. How do you feel about living in a hotel for three months? Luxury high rise apartment or single family home? Ice skating—love it or hate it? Do you drink enough water during the day? (I should drink more than I do.) Please leave your email address with your comment and you'll be entered to win a copy of any of my previously published e-books. Also, if you like sports romance, please check out the five other titles that make up the first ever Carina Press Sports Week. You won't be disappointed!
Find On the Surface at Amazon * Amazon UK * B&N * iTunes * Google Play * Goodreads Find Kate on her blog * Twitter * Instagram * Pinterest