Once upon a time there was a girl who was not always attached to her laptop and checking her email and surfing the internet. This girl loved to be outdoors. She loved doing nothing but "hanging out." So it was with far greater ease than she thought it would be (could have something to do with the cute and wonderful trio of male family members she was with) that she ventured for a getaway to the mountains.
Big Bear, to be exact. Isn't it beautiful?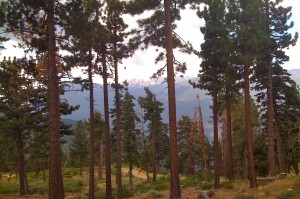 Me: These are all pine trees, right?
DH: I think it's safe to say with all the pinecones all over the ground, yes.
Me: Duh.
We took a ski lift up to the top of Snow Summit. Here's the view on our way down.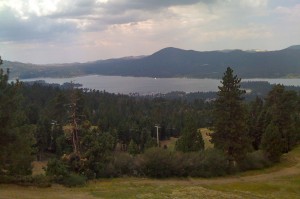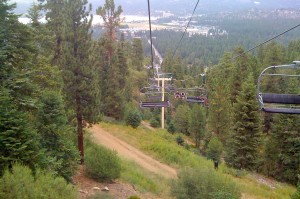 Don't let the clouds fool you. It was warm and the clouds blew in and out all day. We paddle boarded in the lake that day, too. And oh my gosh! It was so fun. I can't wait to do it again. We also spent time in the village shopping and eating. The hubby and youngest walked into a store. They came out with a T-shirt for youngest. He plans to wear it the first day of school. What does it say?
I'm not a doctor, but I'd be happy to take a peek.
I cracked up. Does that make me a bad mom? I'm going to let him wear it. Does *that* make me a bad mom? We ate way too many sweets. (There was the best candy store in the village!). Oh and we saw The Watch. Hubby and I really didn't want to, but the boys did, so we went. It was hysterical! A much better movie than we thought it would be. I recommend it. However, I didn't realize it was rated R. Yeah, another bad mom move. Youngest loved it. I think I can pretty much say there isn't anything he doesn't know anymore. Does that make me… oh forget it.
What have you been up to?
hugs,
Robin