My wonderful pal Marilyn Brant tagged me to do a fun post about what I'm working on right now. But before I answer the questions, check out Marilyn's site for what she's up to. Her books are truly some of my favorites. This is her current release. I can't wait to read it. I love the cover!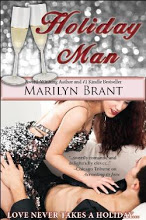 Now to my answers…
What is your working title of your book?
Kissing the Maid of Honor
Where did the idea come from for the book?
I wanted to write a book about a big wedding in a small town where family plays a big role and the hero is the heroine's older brother's best friend. Instead of the usual crush on the best friend, I thought it would be fun to write about two people who never got along, but now they're thrust together for a wedding and have to be around each other – much to my heroine's chagrin.
What genre does your book fall under?
Contemporary romance
Which actors would you choose to play your characters in a movie rendition?
For my heroine, Rachel Bilson. I love her on Hart of Dixie! And for my hero, Josh Duhamel, but with green eyes. :)
What is the one sentence synopsis of your book? 
What happens when the one person you wished you'd never lay eyes on again is back in your life and keeping your distance is impossible?
Will your book be self published or represented by an agency?
I hope it's published through a publisher. Fingers crossed!
How long did it take you to write the first draft of your manuscript?
This is my favorite question at the moment because I get to say I DID IT! Did what you ask? I wrote most of this book this month – 50,000 words as of today! I participated in National Novel Writing Month (NaNoWriMo) and I'm so happy to say I DID IT! (I thought that bared repeating.) :) I'd already written the first three chapters of my story before I started NaNo, and my whole plan was to participate in this November writing challenge so that I could finish the book. I also participated in a boot camp with my publisher, Entangled Publishing, where I also promised to write 50,000 words, so with two incentives – and awesome cheers from other boot campers – I felt pretty good about getting it done.
What other books would you compare this story to within your genre?
Ack! I'm not sure. I want to read Tempting the Best Man – I think that might be a good comparison. I've really just tried to write a fun, sweet, sexy read with lots of sexual tension. Strong small town and contemporary feel.
Who or what inspired you to write this book? 
Hmm… Jill Shalvis is one of my favorite authors and I love her Lucky Harbor novels so I've been thinking about writing a book with a small town setting for some time. That combined with my love of the new Bliss line at Entangled and I knew it was the next thing I wanted to write.
What else about the book might pique the reader's interest?
Kissing. Kissing plays a big part in my book. Just sayin'.
And now to tag another wonderful author friend who will post her latest project next Wednesday, December 5th. Her blog totally rocks without this meme, by the way. I highly recommend reading it. She is funny and charming and a terrific writer. Drumroll please…
Samanthe Becke come on down! You're the next contestant – sorry, totally got carried away there. Must be that secret desire I have to be on a game show.