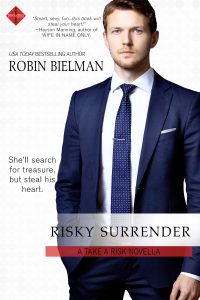 Take a Risk Series
Book Two
Publisher: Entangled Publishing
Genre: Contemporary Romance
ISBN: 978-1-62266-239-5
She'll search for treasure, but steal his heart.
Lucy Davenport made a promise to her father and husband right before they died and she's vowed to keep it at any cost. But when she draws unwanted attention to her secret plans, she's forced to risk everything she's kept guarded. Because the man standing in her way threatens not only her goal, but the walls she's carefully constructed around her heart.
Keats McCall is an environmental preservationist navigating the globe on behalf of heritage protection. When he catches Lucy at his latest project, he suspects she's up to no good. She's secretive, sexy as hell – and has trouble written all over her. He devises a plan to keep her close so he can keep an eye on her. But what he isn't prepared for is just how close he wants to get.
Purchase in Digital/eBook format: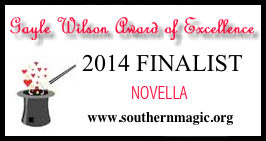 Lucy pushed McCall in the chest. "I can't believe you reached over the candles like that."
"Not the last stupid thing I'll do." No. He suspected before the weekend ended he'd commit a couple dumb things where she was concerned.
"Are you okay? You didn't get burned, did you?" She lifted his charred shirt. "Oh, McCall, you did."
"I'm fine." He tried to push his shirt down. His body still hummed from their hip action and the gentle touch of her hand near his stomach tested his willpower.
"Come with me." She tugged him into the cabin and with a firm grip on his shoulders forced him to sit on the couch. "Don't move."
"Where are you going?"
"To get something." She disappeared into her room and reappeared seconds later, holding what looked to be a container of honey in her hand.
He had no idea what Lucy was up to, but his mind immediately raced to X-rated scenarios.
"Take your shirt off," she commanded, dropping to her knees in front of him.
Holy shit. "Uh, Lucy?"
Her long eyelashes lifted and innocence sexy as hell shone in her eyes. "Don't worry. This won't hurt."
Looking at her hurt. Being this close to her and feeling sensations zing around his lower region hurt. He was an idiot to think he could ignore the power she had over him.
"How do you know?"
"I've done it before." She helped him out of his shirt.
When she traced her finger along one of the ridges of his abdomen, he couldn't stop the unrestrained groan. He gripped the edge of the couch cushion. "What exactly is it?"
She rolled her eyes and opened the honey. "Honey is a natural antiseptic. It heals and prevents infection." She poured the golden remedy onto her palm.
"You are not rubbing honey on me."
"Don't be a baby. I promise it will feel good."
"That's what I'm afraid of."
That got him the sexiest and sweetest gasp he'd ever heard. She blushed, but rather than stop the stream of honey, she squeezed the bottle tighter.
"I recall Keats McCall saying he wasn't afraid of anything."
"You, Lucy. I'm afraid of you." His heart hammered inside his chest. He'd never been more honest in his life.
"Afraid I'll ruin your Aztec village," she mumbled. Her honeyed hand moved toward his burn.
He grabbed her wrist. "Don't start something unless you plan on finishing."