To celebrate summer and the release of my debut novella, WORTH THE RISK, I'm giving away 2 prizes to 2 lucky participants! Route 66 plays an important part in my novella, so what better way to celebrate than with two "66" giveaways!
The prizes:
One person will win a $66 gift card to either Barnes and Noble, Amazon, or The Book Depository. (Winner's choice.)
One person will win this Brighton California Route 66 charm bracelet. (Isn't it pretty?)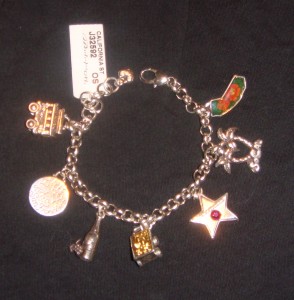 To enter, leave me a comment and/or use the Rafflecopter widget below.
Want to be entered more than once? Easy-peasy. Rafflecopter has got all the details, but here they are:
1. Subscribe to my newsletter for two extra entries.
2. "Like" my Facebook page, follow me on Twitter, add me to your to-read shelf on Goodreads, and get one extra entry for each of those.
3. Want to read Worth the Risk? (I highly recommend it.) :D Buy it here or here and get TEN extra entries (just include your order confirmation number in the Rafflecopter giveaway spot where indicated).
4. Already have Worth the Risk? THANK YOU! You get TEN extra entries. Again, just include your order confirmation number. Don't have it any longer? Email me where Sam first sees Dean again.
5. Tweet about my contest and get an extra entry. Tweet every day if you want!
The more you enter, the better your chances!
I really hope you'll help me spread the word about my contest and Worth the Risk. The contest opens today, June 21st, and closes on July 21st. Winners will be announced on Sunday, July 22nd. (The gift card giveaway is open internationally. The bracelet giveaway is U.S. and Canada. Thanks!)
BONUS ENTRIES: If you go to Barnes and Noble and/or Amazon and "like" and "tag" my book, send me an email to robinbielman at gmail dot com OR let me know in the comments that you've done so, and I'll award you 2 extra entries for each!
THANK YOU SO MUCH! Happy Summer!
hugs,
Robin