Hey there! Happy almost New Year! I got two very special somethings in the mail recently and I thought I'd share them in a giveaway with all of you — my awesome readers. What is this something special? These: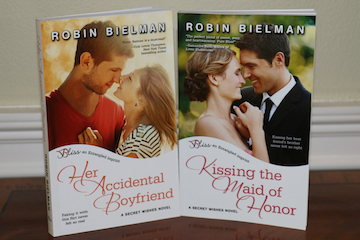 Eep! Print copies of KISSING THE MAID OF HONOR and HER ACCIDENTAL BOYFRIEND! These aren't available for sale and I have a very limited number to give away, but I wanted to end this wonderful year where I was so very lucky to have two books published in my Secret Wishes series from Entangled Publishing, with a fun and rare giveaway!
Here's the scoop: I've posted this on Facebook, too, and to be entered to win all you have to do is LIKE and SHARE my Facebook post. If you're reading this here, too, that means your extra awesome and if you leave me a comment, I'll count that as an extra entry. (For anyone not on FB, please do leave me a comment here to be entered!) Also, signing up for my newsletter gets you an extra entry, too. (I really don't send these out all that often and when I do they're lots of fun. I hope.)
Two random winners will be chosen. One will receive a signed print copy of KISSING THE MAID OF HONOR and the other will receive a signed print copy of HER ACCIDENTAL BOYFRIEND. The giveaway is live through Monday, December 30th. The winners names will be posted here and on Facebook on Tuesday, December 31st. Oh, and this is absolutely open internationally!
Thanks so much for all your support and camaraderie this past year! I'm so lucky to have such wonderful readers and one of the best parts of my 2013 has been the friendships I've made with you guys! You all rock!
Hugs!
Robin