Happy Book Birthday to KISSING THE MAID OF HONOR, the first book in my Secret Wishes series from the Bliss line at Entangled Publishing! I am so excited about this book for so many reasons!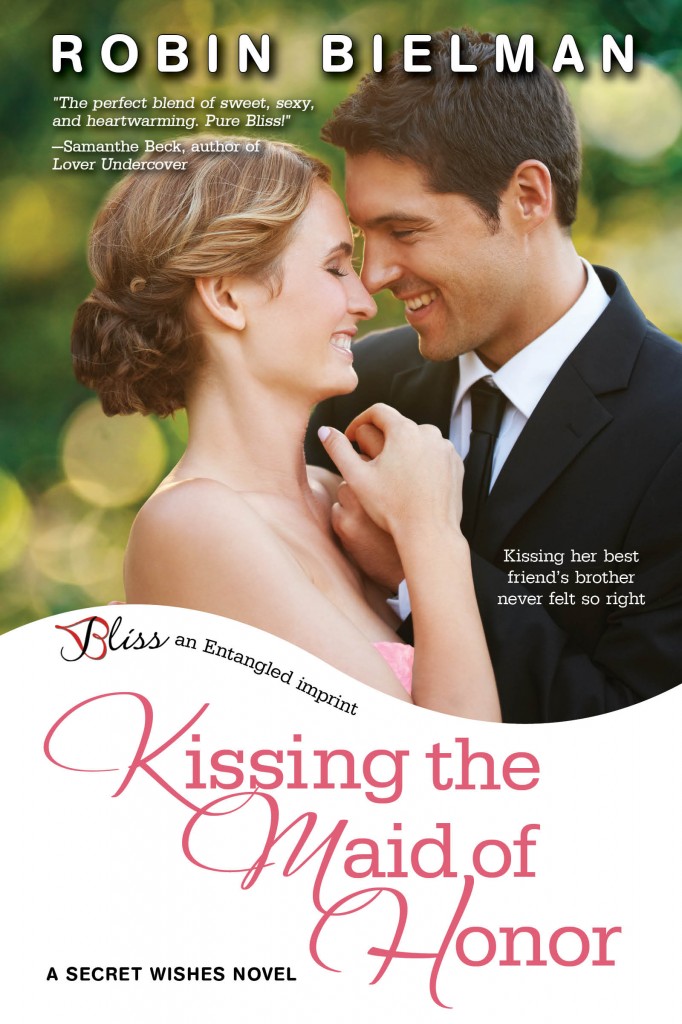 The first reason is I have a total crush on Luke. I just love him. Have from the moment he stepped on the page. The second is Sela. She's fiesty and passionate and someone I think all readers can identify with. There's also the small beach town setting and the numerous secondary characters. Oh, and there's lots of wedding talk. And cake talk. There's talk of bacon (Luke demanded it) and wishes. Kissing plays a big role, too. Friendship. Siblings. Love. There may be some skinny dipping. And heartache. Did I mention the kissing?
I'm also honored and delighted to join an amazing group of Bliss authors… My release day pal, Paula Altenburg, Karen Erickson, Roxanne Snopek, Jennifer Shirk, Ophelia London, Cindi Madsen, Kelly Vitollo, Jenna Rutland, Tracy March, Coleen Kwan, Aubrie Dionne, Sara Daniel, Rachel Astor, and Natale Stenzel. You can find their books here.
You can find KISSING THE MAID OF HONOR here:
Amazon   Barnes & Noble   iTunes   Kobo
Kissing her best friend's brother never felt so right…
Sela Sullivan is resolved to be the best maid of honor ever, even if it means tolerating the best man. Insufferable, too-handsome Luke Watters is not only the guy who humiliated her at a kissing booth in high school, but he also happens to be her best friend's older brother. Positive he's the same arrogant jock, Sela vows to focus on her duties and steer clear of the frustrating—and frustratingly tempting—Luke.
As a world-renowned extreme-sports photographer, Luke is used to undertaking life-risking adventures. But risking his heart for the beautiful Sela Sullivan, who clearly still hates him for his rejection all those years ago? He didn't see that coming. Sela inspires a passion he's never known, and the more time they spend together, the more he craves her. But can he prove to the maid of honor he's become a man of honor?
Next week I start a blog tour and have something really fun planned with my fellow Entangled author and friend, Jennifer Shirk. I'll be posting all the deets later this week! I will be at Through Heart Shaped Glasses this Wednesday, though, if you want to stop by and say hello. It's a new blog and I'm their first guest! I'd love to see you there.
Okay, I'm off to celebrate now…
hugs and heartfelt thanks,
Robin