I'm so, so excited that Keeping Mr. Right Now is out today! *bounces up and down* I truly loved writing these characters and this story and hope readers will love Zane and Sophie as much as I do!
And for a limited time the book is on sale for ONLY .99 CENTS!!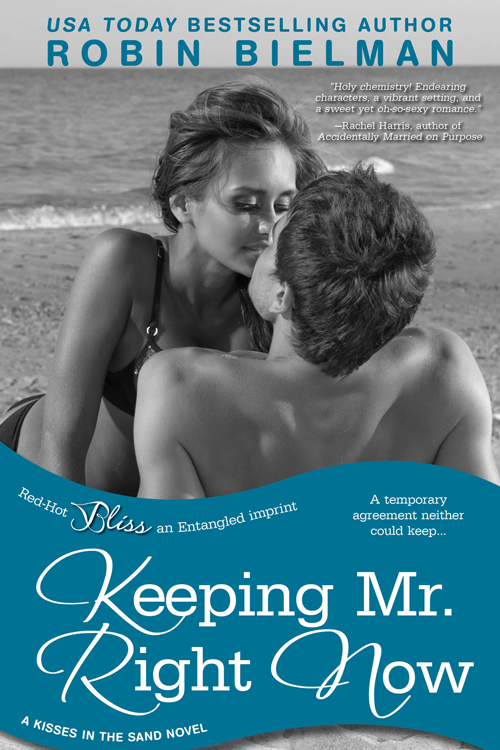 A temporary agreement neither could keep…
Brainy, organized Sophie Birch is no beach bunny. In fact, she's totally out of her element among the sun-bronzed crowd at a film festival in beautiful White Strand Cove. When a surf lesson introduces her to Zane Hollander, suddenly she's up close and personal with the world's sexiest surf star. But what can a great-looking, experienced athlete possibly see in a klutzy out-of-towner who's never set foot in the ocean?
Zane Hollander's playboy reputation has never been a problem…until recently. Now his management team wants him on his best behavior to entice a meaningful new sponsor. Sophie Birch is the perfect girl to help reform his image. She's genuine and respected—and their relationship is purely fictional. But the more Sophie blooms under the beachy sun, the more Zane knows he'll just break her heart. Because nothing's more important to Zane than following the tide. 
 To celebrate my release I've also got a *RED-HOT GIVEAWAY*
Want to read the Red-Hot "Morning After" scene from Zane's point of view? From now until September 7th, I'm taking emails! LOL
This content isn't in the book and is my way of saying thanks to all you awesome readers for your support. The bonus scene takes place in the bedroom and is steamy, so be ready to get a peek inside Zane's R-rated thoughts. All you have to do to have this special scene delivered to your inbox on September 8th is send an email to robinbielmanextras@gmail.com with the words "I want to be Zaned" in the subject line. Easy peasy!
You're just a click away from kisses in the sand… and lots more! ;)
AMAZON     BARNES & NOBLE     iBOOKS     KOBO