Today's the day my Ever After debut novella, WORTH THE RISK is released from Entangled Publishing alongside the fabulous Diane Alberts and her novella DIVINELY RUINED!
Squeeee!!! It's a Book Birthday Party! *throws confetti* *offers drink* *jumps up and down* (Not necessarily in that order – I'd hate to spill my drink on you.)
And since it's such a special occasion, I'm giving away a digital copy of Diane's book! Leave me a comment and you're entered to win! A winner will be randomly selected and posted next Thursday, May 3rd.
Want to win a digital copy of my book? Head on over to Diane's and leave her a comment and you'll be entered to win! Plus, you'll be able to check out all her other great books!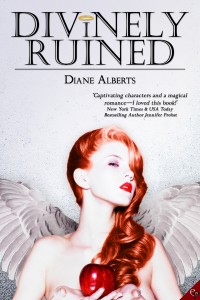 She finally meets a decent man–after she's oath-bound never to touch men again!
Rebecca's life sucked before she became an angel. Crappy apartment, awful jobs, abusive boyfriends–it was no wonder she jumped at the chance to escape it all and become a real live angel. The problem is Rebecca's not very angelic, and she'll have to do more to earn her wings than end her love affair with the word f–er, frick.
Especially when she's assigned to save single father Tony Weis, whose less-than-pure thoughts wreak hell on a telepathic angel's nerves. It's all Rebecca can do to keep her hands off him…but when she loses her memory injuring herself to save Tony's daughter, now it's Tony's turn to be her angel and care for her. But will Tony's devotion tempt her from her angelic path, even if it means being human again?
…To learn more about the author and her other projects, go to: www.dianealberts.com
BUY LINKS: 
And here's my book…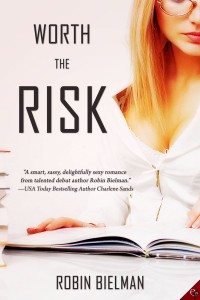 Their love was ancient history…until their paths crossed again.
Samantha Bennett put Dean Malloy out of her mind five years ago, when he broke her heart after a summer fling. But now he's back in her life, and ready to steal a heritage protection contract that could make or break her career–if he doesn't steal her heart first. Samantha's vowed to hate him, but it's more than anger heating the competition between them.
With sparks flying across the conference table and sizzling in every touch, Dean proposes a weekend liaison. Anything to have Sam again; anything to get her out of his system. But the unresolved feelings between them complicate both their personal and professional lives, and one wild weekend could turn into a disaster that would destroy the one job that means more to Samantha than anything. For a shot at love…is it worth the risk?
BUY LINKS: 
And I haven't forgotten about the Worth the Risk Swag I've been promising. Thank you to everyone who's followed along with my alphabet countdown! I've been entering you each and every time you commented, and that will continue with with this post (and any others) until next Thursday, May 3rd, when I announce the winner of Diane's book. On that day, I'll also announce TWO winners of my Worth the Risk Swag Pack. The environment is very important to my characters in Worth the Risk, so keeping that in mind, here's what the swag looks like: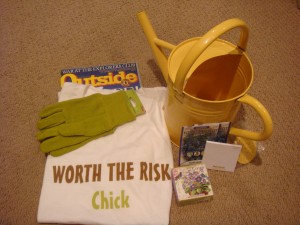 Worth the Risk Swag:
A steel watering can, gardening gloves, seed packets for Forget-Me-Nots (because Sam and Dean have never forgotten each other), a copy of Outside magazine, moisturizing shea butter "Love" soap, a Worth the Risk Chick T-shirt, and a Worth the Risk sticky note pad.
Thanks so much for helping Diane and I celebrate!! Mwah!
hugs,
Robin