Hey there! Thanks so much to everyone who stopped by and commented on my first Octoberquest post! It's so great to have you with me this month! Seriously great.
Okay, so this weekend I started things off with one of my favorite things: food.
I plan to make the awesome and easy cake recipe that Lindsey posted in the comments, but I've been meaning to try an Apple Crisp recipe a friend gave me, so that's what I did. I think apple crisps are the perfect fall treat and this one did not disappoint! It was yummy. Here's the recipe:
2 large apples, peeled and sliced
3/4 cup flour
3/4 cup brown sugar
1/2 cup oats
1/2 tsp. cinnamon
1/2 cup melted butter
1) Heat oven to 375 degrees.
2) Spread apple slices in ungreased 8 inch square pan.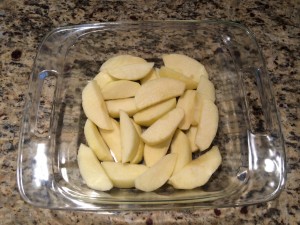 3) Mix remaining ingredients and put over apples. (I used my fingers to spread the crumble evenly. The melted butter made it a bit wet and thick, so it didn't pour, more like globbed.)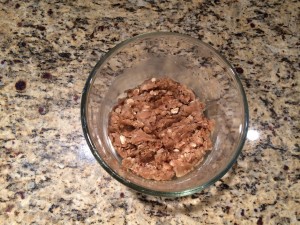 4) Bake uncovered until the topping is golden brown, about 40 minutes. Enjoy!
Here's the finished product…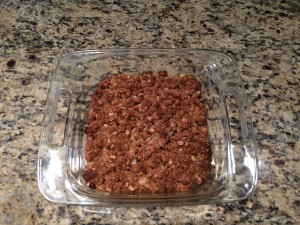 It was really delicious and paired with a little ice cream, even yummier. :)
My hubby and I also went out to grab a quick dinner this past weekend and were in the mood for burgers so we went to a place called Smash Burger. In the spirt of Octoberquest, I ordered a totally new kind of burger, and holy hamburger, was it good! I can't remember the name of the burger, but it included a fried egg, crispy wonton, cucumbers, tomato, and cilantro. (It reminded me of the burger that's in Keeping Mr. Right Now and that's why I chose it. Yes, I've still got Zane on the brain.) Here's a picture…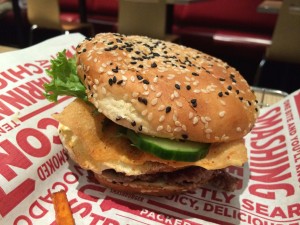 So I'm feeling like I'm off to a good start with my quest this month. I also laid the groundwork for something I've been wanting to do forever and am super excited – and nervous! – about, but more on that later.  How was your weekend?