I love to bake, especially during the holidays. Cookies are at the top of my baking list, followed by banana and pumpkin bread. So I thought I'd share one of my family's best-loved cookie bars with you. They're called Gooey Bars.
I found this recipe written on a faded piece of paper in a book of recipes my mom had. She'd never made them and I thought I'd give it a try. That was many years ago and this has become a favorite and treasured recipe. Everybody—and I mean everybody!—loves these! They are the biggest hit at any gathering we have. Seriously, these are the best cookie bar you'll ever eat!
For the bottom layer you'll need:
1 egg
1 box yellow cake mix (I also use lemon and chocolate. Lemon is my favorite.)
1 cube butter, melted
Mix together and pat into the bottom of a greased 9×13 pan.
For the top layer you'll need:
2 eggs, beaten
1 8 oz. pkg cream cheese, softened
1 box (1 lb.) powdered sugar
Beat together for 5 minutes at medium speed. Pour over the bottom layer.
Bake at 350 degrees for 40-45 minutes or until the top is light brown. After you take them out of the oven, sprinkle with additional sifted powdered sugar. The filling might fall after taking from the oven – don't worry, that's okay! And I've found these are best if made the day before you want to serve them. I usually make them at night and then let them sit in the pan until the morning. That makes cutting them easier, too. If they're not completely cool, it's difficult to cut them without their gooeyness going everywhere.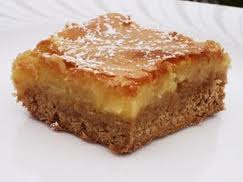 Enjoy!