I'm so delighted to have my friend and publishing house sister, Misty Evans, on my blog today to celebrate her newest release, THE BLOOD CODE. She's here to talk about princess lessons (Love that! Who hasn't dreamed of being a princess?) and she's got an amazing giveaway so be sure to check it out below!
Take it away Misty…
Princess Lessons + Giveaway!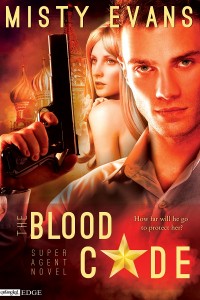 In my new sexy spy thriller, The Blood Code, my heroine Anya is a lost Russian princess.Because she left Moscow at age 11 to go into hiding in America, she never had official princess lessons. You know, like Mia did in the fictional Princess Diaries series? I loved that story! And it got me thinking about what it's like to be a real princess – and what it takes to act like one.
I thought it would be fun to share a few lessons I found from etiquette expert Jean Broke-Smith, who has instructed politicians, royalty, and TV stars on modeling and etiquette for over thirty years. Move over, Kate Middleton. We're about to make being a princess look easy!
Greeting Royalty – From the handshake to the understated curtsy, a princess must know how to properly greet and show subservience to other royals.
1. Royalty always offer the hand first.
2. Don't squeeze too hard or shake too firmly.
3. And never, ever touch the Queen!
4. The depth of the curtsy depends on the event and the royal you're meeting. At a formal event, a deep sweeping curtsy is only for the Queen. Other royals receive a small bob only.
5. What's the difference between a curtsy and a bob? A curtsy requires you to tighten your bottom, keep your shoulders back, dip and shake the royals hand at the same time. A bob is similar, but there is no handshake. Hands stay at your side, one foot goes in front of the other, and the knees bend slightly.
Sitting and Standing – posture is crucial for princesses who are always in public and must stand or sit straight for hours at a time.
1. Standing, one foot in front of the other, toes slightly turned out (like 3rd position in ballet).
2. Shoulders back, head up. Again, reminds me of ballet or yoga where you pretend you have a string running through your body and pulling your spine up as you suck in all your organs.
3. When going to sit, brush the back of your legs against the chair (to make sure it's there!). Lower your bottom, then push back into the chair.
4. Adjust your legs to the side. You may cross your ankles, but not your legs. Your knees should stay together at all times.
5. When returning to a standing position, slide forward then stand once more in 3rd position.
Walking – a princess must glide, not runway walk.
1. The Glide goes like this: heel, instep, toe, repeat. Knees should not go in front of each other.
2. Hands by your sides.
3. No giant strides…feet should be about half a foot-length apart.
Of course there are lessons on table manners and even how to get in and out of a car. My favorite, though, is Coat Management. Seriously! Who knew there was a proper way to put on and remove your coat? If you'd like to know tips for coat management and other princess lessons, visit The Blood Code's excerpt page at www.readmistyevans.com and click on Princess Lessons at the bottom to read how you too can walk, sit, and put on your coat like a princess!
About the book…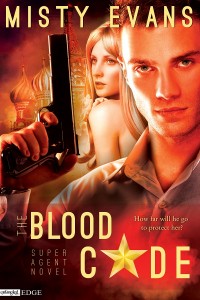 Fifteen years ago, Anya Radzoya fled Russia with her grandmother after the suspicious deaths of her parents, but she can't escape the royal genes that make her one of Russia's last living princesses. When President Ivanov blackmails her into returning to Moscow in exchange for her grandmother's life, Anya discovers he's planning to unleash a nuclear war. With no one else to turn to, she joins forces with CIA operative Ryan Smith.
Undercover at the nuclear summit, Ryan recruits Anya to find proof Ivanov is resurrecting the Cold War, but he suspects his new asset is a double agent. Anya is determined to rescue her grandmother with or without his help, however, and Ryan finds himself falling for the beautiful princess before he even trusts her.
Trapped inside the Kremlin with a cunning and ruthless opponent, the two must risk their lives and their hearts to save Anya's grandmother as well as millions of innocent people.
BUY LINKS: Amazon    B&N    iBookstore
About Misty…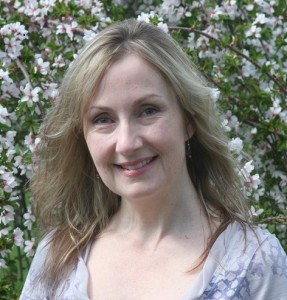 Misty Evans is the author of the award-winning Super Agent romantic suspense series. Books in the series have won a CataNetwork Reviewers' Choice Award, CAPA nominations, the New England Reader's Choice Bean Pot Award for Best Romantic Suspense and the ACRA Heart of Excellence Reader's Choice Award for Best Romantic Suspense.
Misty likes her coffee black, her conspiracy stories juicy, and her wicked characters dressed in couture. When not reading or writing, she enjoys hanging out with her husband and their twin sons. Learn more and sign up for her newsletter at www.readmistyevans.com.
THE BLOOD CODE Blog Tour is full of interviews, guest posts, spy quizzes and giveaways! One lucky reader will receive a princess-cut tennis bracelet and twelve people will win tiara keychains (limited to US and Canada). But that's not all, three international winners will be selected to receive a free ebook copy of THE BLOOD CODE, and an ebook copy from any of Misty's Super Agent backlist books. Enter below! Good luck!