Happy March everyone! Here in the states, March Madness kicks off in a couple of weeks in the basketball world. I don't know about you guys, but I'm not a huge basketball fan. However, I am a big fan of romance heroes and so I found it super cool that Entangled Bliss has decided to have their own March Madness tournament – with the heroes from the Bliss line! Here's the scoop from a Bliss head honcho…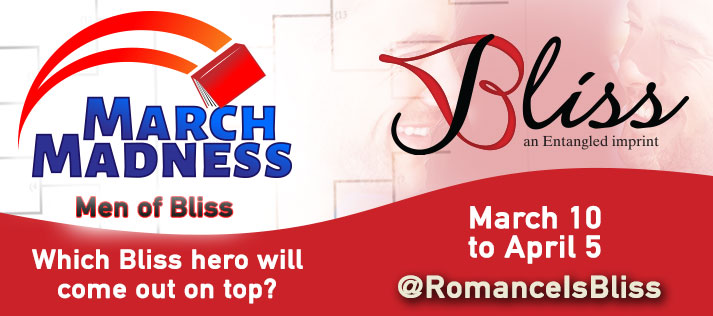 Get ready to watch your favorite men go head to head and see who will make it through all five rounds of the March Madness Men of Bliss Tournament!
But first we need YOUR help! It is up to you to make sure your favorite Bliss hero gets nominated and entered into the tournament!  Only the top 24 will be entered to the tournament + 4 heroes that have a BYE in round 1. So tell all of your friends to fill out this simple form –> https://docs.google.com/forms/d/1niEZC1XMGp53124FJWtMso7Fg2pu_Tq43E2lsx7L7l4/viewform to nominate their favorites!
In case you can't recall all of the Bliss heroes we have to offer, click HERE for the Bliss webpage with all of our books to jog your memory!
Nominations are open until March 7! The Bliss tourney will kick off March 10!
************************************************************
I'm secretly – okay not so secretly – hoping you'll vote for my heroes, Luke Watters from Kissing the Maid of Honor and Shane Sullivan from Her Accidental Boyfriend. :D
Thank you bunches!!