It's been very busy at Casa Bielman. Fun busy. Wonderful busy. I'm so thankful busy. I am beyond grateful for all the wonderful and kind words I've received about Yours At Midnight. It's the greatest feeling to have readers respond to something I've written and I'm touched and honored by your support every day. Thank you!
As much as I love to write, I love to read! I seriously wish I could just read all day. I would never run out of books that I can't wait to dive in to. I recently had the privilege of a sneak peek at a book that released today, and I wanted to share it with you. I adored Kelley Vitollo's second book in her Shamrock Falls series, LUCK OF THE DRAW! Here's the awesome cover and blurb: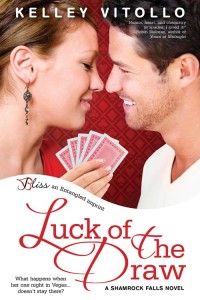 Rowan McKinley isn't looking for one wild night while vacationing in Vegas, but she gets it anyway when she meets professional poker player—and professional ladies' man—Breck Wilder. Breck's easygoing charm and lighthearted banter draw in the reserved Rowan, and though she's always dreamed of the kind of forever love her best friends Sidney and Kade share, she'll settle for one night with the charismatic player.
After their crazy one-night stand, Breck never expected to see the mysterious redhead again. So when he shows up at a Shamrock Falls B&B looking to get away for a few weeks and Rowan answers the door, he's floored. Breck's rolling-stone lifestyle and ill-fated history with women means he's not interested in anything long-term. But the longer he stays at the B&B, the more he considers dropping the poker face and putting all his cards on the table…for Rowan.
Oh, I just adored these characters and story! I'm already looking forward to Kelley's next one.
Switching gears, my blog tour and giveaway is still going on and I'd so love your company at my stops! If you have a minute, click on the banner in the upper right corner and you can see where I'm at.
Hugs,
Robin