I'm super honored to be included in a wonderful fundraiser taking place in the coming weeks, and I'm super delighted to turn my blog over to Heather for all the details…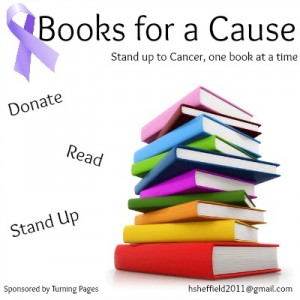 Hi everyone! My name is Heather and I am one half of the duo that makes up the blog, Turning Pages. Before I get started, I really want to thank Robin for allowing me to spread the word about Books for a Cause here on her blog!
A few weeks ago, I was talking to a few fellow bloggers on twitter about starting up some type of fundraiser, involving reading/books, to raise funds for cancer research. I recently lost my Aunt after a long battle with Cancer – read my full story on her blog – and I am is very passionate about raising money and spreading the word for this great cause.
After contacting Stand Up 2 Cancer, they have offered their help and support. Additionally, a fundraising page as well. 100% of the proceeds raised during this fundraiser will be donated to their foundation, directly.
In addition to monetary donations, I am organizing an auction all bookish things related (mid-late July time frame) But I NEED your help too! Spread the world, donate books/swag or anything else to auction off. Your ideas too, would be great!
Of course, I am not doing this alone. Tonya at Lily Bloom Books is graciously helping me with all the "behind the scenes action" as well helping me get organized for the upcoming auction to help support Books for a Cause.
I am so excited to launch the auction and am so thankful for all of the authors and bloggers who have already contributed items! Please stay tuned and continue to help spread the word about Books for a Cause!
You can contact me directly at hsheffield2011 at gmail dot com or Tonya at lilybloombooks (at) hotmail (dot) com if you are able to donate items to the auction. You can also donate directly on the fundraising page by going to the website. In addition, you can contact one of us with ideas for other ways make this fundraiser a success.
A hashtag has been created – #BooksForACause to help spread the word. Please tweet, share on Facebook and/or on your blog sidebar (using image above).
The goal is raise $2,000. Help us get there and Stand Up 2 Cancer!
Sincerely,
Heather