Happy February 29th!
I'm really excited to have one of my favorite people on my blog today: Dee J. Adams! Dee's second book in her Adrenaline Highs series for Carina Press, DANGER ZONE, released last week. I'm reading it now and I'm just gonna say this – Quinn is mine. (What? Dee is nudging me. Oh, okay.) Because it's Leap Day, I'm going to share him and give away a digital copy of DANGER ZONE to one lucky commenter. Details below, because I can't wait for you to get to know Dee better!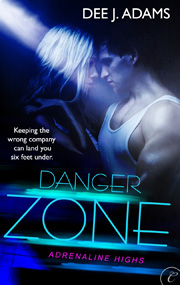 In her ten-year career as a stuntwoman, Ellie Morgan has experienced her share of thrills. None compares to the rush of being behind the wheel of a race car for her latest movie shoot. Certain she was born to race, Ellie's ready to shift gears—but a secret from her past holds her back.
Quinn Reynolds is tired of being in the driver's seat of his family's company, Formula Racing Design. He's ready to sell—if he can get his co-owner and brother, Mac, to agree. Quinn's not sure what he wants to do with his future, but almost as soon as he meets Ellie, he knows he wants her to be part of it.
Though Ellie tries to resist her attraction to the charming businessman, she's quickly in danger of losing her heart. But after narrowly escaping "accidents" both on and off the set, it becomes clear that getting involved with Quinn could be downright deadly…

Before we get to the questions, I want to thank Robin for inviting me to her beautiful blog! Isn't it gorgeous? So Zen and absolutely relaxing. (Don't mind me if I take a nap while you guys check out the interview. <G>) Robin might have a tough time getting me out the door. I like it here. Yes, I know…on with the questions. (Aww, thanks, Dee! You're welcome any time!)

You've worked in television for many years and met some hunky actors. Can you share a favorite story with us? Maybe one with a certain George Clooney?
I have a few George stories. Some sweet, some funny. This is one of my favorites. My husband had worked with him on a pilot. (It was Bonnie Hunt's first sitcom.) I hadn't seen George in about 2 or 3 years at that point. (Not since he left Roseanne during the second season.) I hadn't been able to get to the set when they were filming and I missed him, but I was at the premiere party (at the director's house) when the front door opened and in walked George. He glanced around the room, (keep in mind this was a giant house filled with people) saw me and his eyes widened. He smiled and made a bee line straight for me. Gave me a big hug. To say that he made me a very happy woman would be an understatement. The fact that there was a room full of people hoping/expecting him to show and he came straight to me… well… it made my year. LOL. Probably my decade.
Okay, now that we've got George out of the way, who would you cast as Quinn Reynolds in the movie version of Danger Zone?
When I wrote Quinn, I had a very specific face (and body) in my mind, but I hadn't seen anyone beforehand that might be Quinn. Jed Hill is a model I saw after I wrote the book. He is gorgeous. Totally Quinn. He was spot on what I had in my head. If he can act… he's got the job! If he can't act, then I'd have to go with my current favorite. Ryan Reynolds. (And we just have to pretend he's a little buffer and has darker hair. <G>) (Oh, I love Ryan Reynolds!)
You get to name a new ice cream flavor inspired by Danger Zone. The name and flavor is…
Chocolate Adrenaline.
Would you rather kayak down a waterfall or be strapped to the roof of a race car hitting 3 G's?
That one's easy. I'm terrified of water so I'd have to be strapped to the roof of a race car and just hope Trace Bradshaw is driving. <G> (And also hope that no one is around with any oil balloons!)
There's Fantasy Football. And Fantasy Baseball. Let's play Fantasy Book Club. Who's with you and what are you going to talk about?
OMG! Fantasy Book Club! I LOVE this! Ready? Suzanne Brockmann, Linda Howard, Cindy Gerard, Tara Janzen, Cherry Adair and we're all talking about romantic suspense. <chills down my back!> Perfection. (Can I come too, please?)
You're stranded in the middle of the desert ~ who you gonna call?
Ghostbusters! (Sorry. You had to know I was going there. LOL.) Gotta call the guy who brought me to the dance. My husband, Sean. He'd pick me up and have my favorite with him. A chai latte. Love that man. (I was hoping you'd go there. :D)
Today is Leap Day! So, Dee, I present you with a frog (you know, because they leap) that you may kiss and have turn into any person you want for the entire day. Who are you wishing for and how are you going to spend the day?
With the knowledge that I love my husband with all my heart and the fact that I'm going to sound like a broken record, I'm going to wish for George, but for purely selfish reasons. You see, the man has enough clout in Hollywood to make my books into movies. So, after our breakfast of really delicious donuts we're going to map out a road to production. Does he want to write the screenplay or farm it out? (I sure as hell don't want to!) We pick a director. (My husband. See I'm not all bad. George can be an executive producer.) We cast it and schedule production so even after my day is over (and poor George is back to his green froggy self) the movie has to be made because… because… um… okay, I guess the movie gets scrubbed, but it was a fun day, right?
Finish this sentence… Leapin' Lizards! I can't believe…
It isn't butter!
I know. You were looking for something with more pizzazz. That's all I got.
:)
Thanks so much for being here, Dee! This is the best Leap Day ever!
To be entered to win a digital copy of DANGER ZONE, now it's your turn. If you could kiss a frog and have him (or her) turn into anyone, who would it be? Tell me in the comments and a winner will be randomly chosen and posted next Wednesday, March 7th.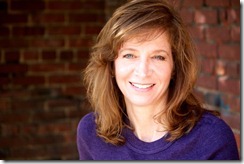 About Dee J. Adams:
I was born and raised in El Paso, Texas. After graduating high school, I moved to Los Angeles and tried to make it in show biz. I got enough acting work to pay the rent and keep the S.A.G. card. (Screen Actors Guild in case anyone is wondering.) I also worked as a Dialogue Coach in sitcoms. (That's code for acting coach and also means I helped the actors learn their lines.) Writing came as a fluke. After a very intense dream (I apparently couldn't stop talking about), my husband said, "Just write it down." Prophetic words I took it to heart. Three weeks and fourteen hours a day later, I had a 450 page handwritten novel. And so it began.
I am lucky to be married to the love of my life and we have one beautiful daughter. She was and continues to be perfect so I saw no reason for others! I like kick-ass heroines and big stories. I like to read them and I like to write them. I like romance, adventure, a little mystery and happy endings. Romance is the perfect genre for me.
hugs,
Robin