Zane, the hero in my latest release, KEEPING MR. RIGHT NOW, holds an extra special place in my heart. Something about him tugged at me from the second he entered my head and I truly feel like I could write several books about him! Instead, I've written an extra scene. From his point of view. It delves deeper into his feelings for my heroine Sophie. Deeper into the attachment he feels for her. And I'm super excited to share it with you!
From now until September 7th, I'm taking emails! LOL This content isn't in the book and is my way of saying thanks to all you awesome readers for your support. The bonus scene takes place in the bedroom and is steamy, so be ready to get a peek inside Zane's R-rated thoughts. All you have to do to have this special scene delivered to your inbox on September 8th is send an email to robinbielmanextras@gmail.com with the words "I want to be Zaned" in the subject line.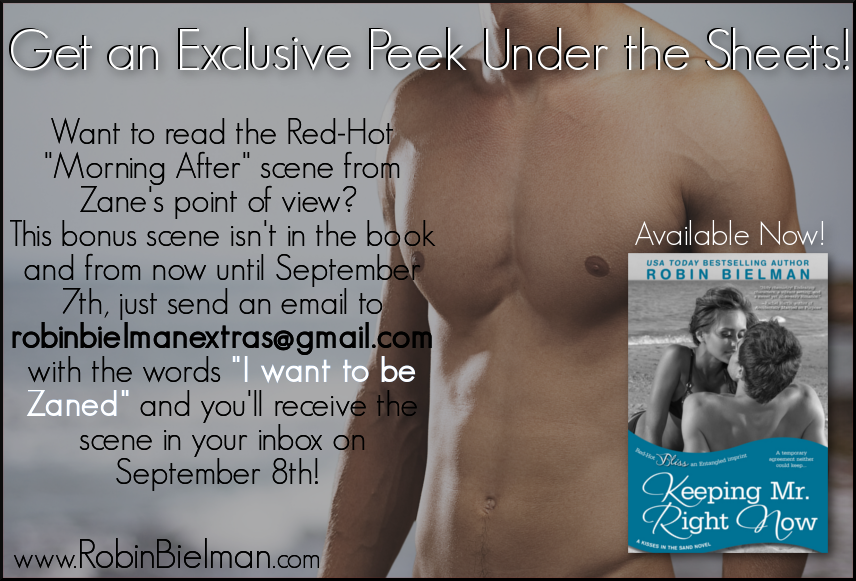 And huge thanks to everyone who has already read the book! I hope you'll consider leaving me an honest review on Goodreads and the major buying sites. Besides word of mouth, reviews are really helpful to getting the word out about a book. Thank you!