Oh my gosh! It's getting so close to my release! *jumps up and down and grins from ear-to-ear* This THURSDAY, APRIL 26! I definitely think drinks are in order to celebrate my debut, don't you?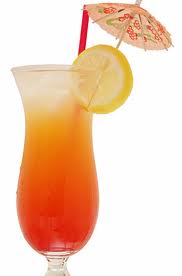 Here's a recipe for one of my favorite cocktails, a Tequila Sunrise:
2 oz. Tequila
4 oz. Orange Juice
3/4 oz. Grenadine
Stir tequila and orange juice with ice and strain into a highball glass (or regular glass if you're like me and don't have a fancy highball). Add ice cubes. Pour in grenadine slowly and allow to settle. Before drinking, stir to complete your sunrise.
Cheers!
What's your favorite drink?