I skydived! And it was awesome and amazing and crazy fun and I can't wait to do it again!! Seriously, I want to jump again right now.
I was hoping to post the video here, but I can't figure out how to share it. So, you'll just have to come over to my house and watch it. It's pretty funny. I swear, I had my mouth open the entire time. I was either  wooting it up or talking or laughing or something. But my damn lips never shut! Next time I jump I'm going to look a lot cooler.
I do have pictures, though! So here's a little photo montage of me in action.
Here's my view right before I jumped…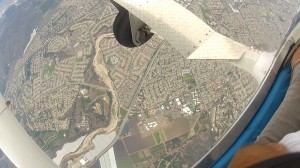 And here I am right after I jumped. Although it was more like Leon (that's my instructor) gently nudged me out of the plane. It was really easy and not at all scary. Check out the airplane right behind me!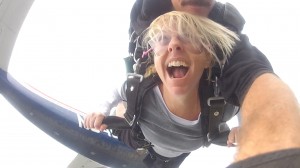 The free fall was amazing! Look, Mom, no parachute!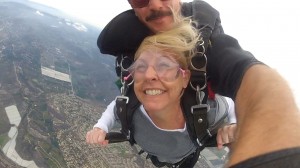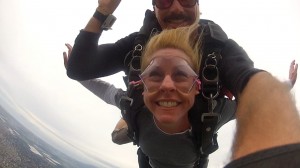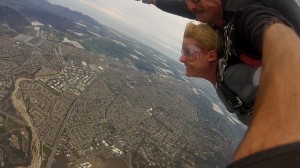 The free fall lasted about 30 seconds and then Leon pulled on the chute. We coasted down for about 5 minutes after that. I wanted to stay up in the sky ALL DAY!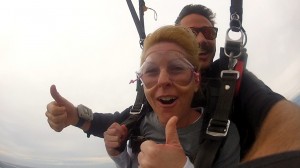 Here I am getting to steer! See my hand on that yellow cord? That guides the chute. I tugged with my right hand and then my left  so we could do turns. It was like being on a roller coaster in the sky. Totally rocked! (And shh… it made me a teensy bit nauseous.) Also notice, my mouth is open. *shakes head* Oh, Leon also said I could slide off my goggles if I wanted to, so I did. The scenery was beautiful.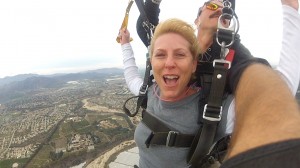 Our landing was seamless and I was so sorry for the jump to come to an end. That's me looking to the sky and wishing I was still up there!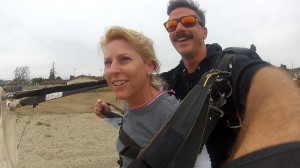 I've so got the bug now you guys! You can be sure I'll jump again in 2015. I really loved it and wasn't nervous or worried for even a second. This was a really special way to spend my mom's birthday – yep, she jumped too and rocked it – and now I'm anxious to figure out my next adventure. :) Who's with me?