Today is the one year anniversary for Her Accidental Boyfriend and to celebrate, Shane is here! He's agreed to sit down with me and answer a few of my questions. Oh, and I may have coaxed him out of his shirt.
You're welcome.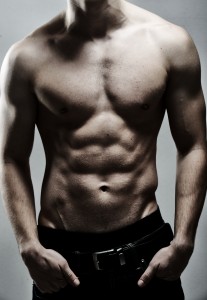 Me: You can put your shirt back on now.
Shane: [chuckles] Thanks.
Me: Thank you for being here today. So, since the new fall television season is underway, I thought we'd talk about TV.  Device you watch on?
Shane: A 52-inch drop screen in my living room.
Me: That's awesome. Does all remote control power lie with you, or does Kagan have some say?
Shane: I'm pretty much putty in Kagan's hands so whatever she wants to watch I'm okay with. Unless it's baseball. We're rivals in that department and even though my team lost in the first round, I may have rubbed the playoffs  in her face a little bit since the Yank's didn't get that far.
Me: That's right! You're an Angels fan and she's a Yankees fan. You have to admit watching Derek Jeter those last few games was special, though.
Shane: Absolutely.
Me: Funniest person on TV?
Shane: The guy on the Big Bang Theory. Kagan and I love that show.
Me: What snacks do you like to eat while watching?
Shane: [smirks] Well, I love to nibble on Kagan, but she often insists we share a bowl of popcorn or Pirate Booty.
Me: I love those. Have you got a guilty pleasure?
Shane: I can sit and watch some of those shows on HGTV all day.
Me: Given you're vice president of one of the most respected architectural firms in the country, I can see that. Okay, show you'd like to guest star on?
Shane: NCIS.
Me: Celebrity crush?
Shane: Jimmy Fallon. [smiles]
Me: He is pretty crush-worthy. Last question. Since this month I'm trying to do new things, what new thing would you like to try?
Shane: [raises eyebrows in a far too flirtatious manner]
Me: Aside from dirty things with Kagan!
Shane: In that case, I'll go with plant a garden. Kagan's favorite flowers are Ranunculus, and I've been meaning to surprise her.
*****
Is he awesome or what? *sigh* Hey, I also wanted to mention that I've got a post up today at Magical Musings celebrating Her Accidental Boyfriend and there's a giveaway.