Thank you, thank you, thank you for making my October so awesome! Thanks to everyone who has bought and read HER ACCIDENTAL BOYFRIEND, thanks for helping me celebrate the release by hanging out with me on my blog tour and on Facebook and Twitter, and thanks for helping me celebrate Halloween with your tweets and wonderful comments here on my blog. (I've loved hearing about all the costumes!!) I am so grateful for all your kind words and support! THANK YOU!!
So the winners of my All Entangled Eve Halloween Hop are Karen O. and Michele L! Congratulations ladies! Please email me your snail mail address so I can get your gift bags to you!
This month I'm participating in a couple of more fun things. First off, Danielle from Ramblings From This Chick is hosting a Romance Is Bliss event on her blog and things kick off today with the awesome Karen Erickson. There are giveaways every day (November 1 – 16) and a Grand Prize giveaway to one lucky participant! I'll be there on November 15th!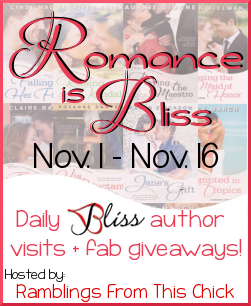 I'm also participating in the Year End Splash over at The Romance Reviews. Talk about a party! There are over 400 authors participating with giveaways and other fun stuff. HER ACCIDENTAL BOYFRIEND is going to be featured over there from November 6 – 10 and I've got a fun Q&A happening on November 21. The splash is running for the entire month. I hope you'll stop by! You can click on the Year End Splash graphic on my side bar to get to their page.
Lastly, I'm cooking up some more HER ACCIDENTAL BOYFRIEND fun for November. I've been doing some giveaways on Facebook and am thinking about making this the month of SHANE. I think he deserves a whole month, don't you? LOL Keep an eye out for more info coming this weekend!
hugs,
Robin