I used to be neat. Like nothing could be out of place neat. Growing up my mom never had to tell me to clean my room because it was already clean. When I got home from school, I'd do my homework and put it away. My books and folders were always in a perfect stack. College found my rooms the most organized and tidy of my roommates. I'd never leave clothes lying around. Or dishes in the sink. (Oh, and I always had to be sure the doors were locked before I went to sleep.) Married life has proven the same. Luckily my hubby is pretty neat.
Recently, though, something has happened that I can't explain. There is one spot in my house that is not neat or tidy or clean or organized. Yet, I find it a place that gives me much comfort. I like  the mess. It doesn't bother me one iota.
Here it is: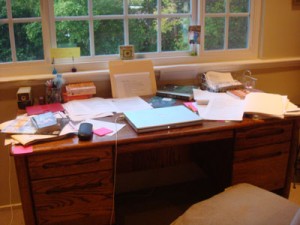 My desk!
So this past weekend I went to Barnes & Noble because my friend Rochelle Staab was speaking on a panel with fellow mystery writers Bill Fitzhugh and Steve Blackmore. The moderator was Edward Arno. Mr. Arno said something that I absolutely loved! He's named his office Peru. He named it Peru so that if someone called for him and he was busy writing his roommate could say that he was in Peru. :D
This leads me back to my office and my messy, but lovely, desk. I've decided to name my writing space Maui so that if someone calls and someone in my family answers, they can say I'm in Maui.
Rochelle doesn't have a name for her writing place, but her favorite spot includes a couch and a fireplace. In honor of her, I'm giving away a signed copy of her debut novel, WHO DO, VOODOO?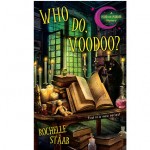 Here's the back cover blurb:
When Liz Cooper's friend Robin Bloom finds an unusual tarot card tacked to her front door, Liz writes if off as a prank. Robin refuses to ignore the omen–her late husband drew the same card, the Three of Swords, in a reading the night before he was killed in a car accident. As more cards and darker threats appear, Liz realizes someone very dangerous is upping the ante…
Liz turns to her brother's ex-college roommate, occult expert Nick Garfield. As Nick leads her into the voodoo community to locate the origin of the deck, she can't ignore their attraction to each other. Then, a woman is found murdered and Robin becomes the prime suspect. Determined to clear her friend, Liz teams with Nick to unravel otherworldly secrets and seek help from beyond–or risk being outwitted by a cunning killer…
Leave me a comment letting me know what your desk (or favorite space) looks like and if you have a name for it, and you're entered to win the book. I'll announce the winner next Tuesday, January 31st.
hugs!
Robin