Happy almost Halloween! To celebrate, I'm participating along with over 100 other blogs in a blog hop! Talk about spooktacular! There's giveaways and wicked fun at each stop so be sure to keep reading to find out what I'm giving away and to hop to the rest of the blogs!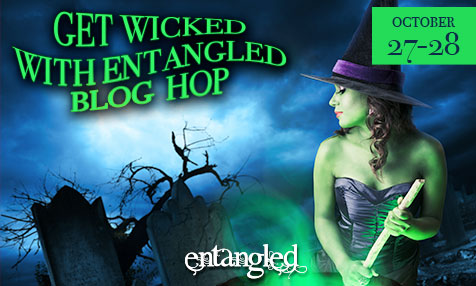 Since costumes are a big part of Halloween, I asked a few of my characters what they were dressing up as, and here's what they had to say…
Luke Watters and Sela Sullivan from Kissing the Maid of Honor:
"Luke is going to be bacon and I'm going to be a chocolate bar," Sela said.
Luke grinned. "And at the end of the night we're going to ea–"
"Luke!"
Shane Sullivan and Kagan Owens from Her Accidental Boyfriend:
"We're dressing as James Bond and his Bond girl," Shane said. "I think I'm gonna get lucky."
"All you have to do is smile and you get lucky," Kagan chimed in.
Troy Streiber and Erin Watters from Wild About Her Wingman:
"I'm dressing as a bun maker," Troy said.
"And I'm going to be a bun in the oven." Erin was positively glowing as she said this. Hmm…
Zane Hollander and Sophie Birch from Keeping Mr. Right Now:
"We're doing the devil and angel thing," Zane said, putting his arm around Sophie.
"Only I'm the devil and he's my angel," Sophie added with a sly smile.
"I can't wait for you to be bad," Zane added with a definite sparkle in his amazing blue eyes.
Hugh Langston and Tess Damon from Veiled Target:
"We're going to be pirates," Tess said excitedly. "I haven't dressed up since I was little."
"Aaarrgghh. And ye better be prepared to be boarded," Hugh said.
"What is it they say? Save a ship. Ride a pirate." Tess grinned at this.
So did Hugh.
<sigh> I just love all these characters.
*Giveaway!*
Leave me a comment on this post telling me what one of your favorite costumes has been and you'll be entered to win a $25 gift card to the online store of your choice! Want an extra entry? Sign up for my newsletter in the top right hand corner of this page and you've got it!  (I've been on an Octoberquest this month, too, and you might want to click on the Giveaway tab at the top of this page.) One winner will be randomly chosen and their name posted here on November 1st.
Thanks so much for stopping by! I'm so glad you did! Happy Halloween!
HOP to the rest of the ghoulishly good blogs by clicking  below!