When I asked Robin if I could be on her blog and received her response, I almost fell off my chair. I couldn't believe she said, "Yes." Robin is unbelievably amazing and I'm very happy to be here today.
Thank you so much, Robin, for hosting me today and letting me share with your readers my new release titled, Ariel's Song. (Thank you for being here, Evie! And thanks so much for your very kind words! I'm delighted to have you here!)
To celebrate the launch of my new release, I have a tour wide giveaway and I'm also gifting an ecopy of Ariel's Song to one lucky commenter at each blog stop. (You heard Evie guys! Don't forget to leave a comment to be entered. I'll randomly select a winner on Sunday, November 17th.)
So, who inspired my hero?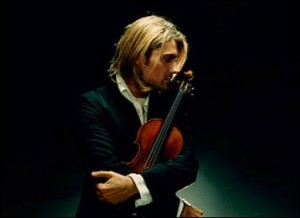 Have you heard of David Garrett? Yes? No? If you've heard of him, then you know he's a fabulous musician. He rocks out the violin like no one can. If you haven't heard of him, you're missing out. Trust me when I say the moment you listen to one of David's songs for the first time, you'll want to go back for more. It happened to me and that's what inspired my hero, Colin, for Ariel's Song.
About Ariel's Song:
Colin Hoskins, famous classical violinist, is tainted by his past. Angry at life, unable to move beyond the betrayal of his dead fiancé, he's sworn off performing or falling in love ever again. All Colin wants is to be left alone, except no one listens. Especially the pretty little assistant he can't fire and his body burns to claim.
Stranded in a foreign country, bankrupted heiress Ariel Parks needs a job to fund her way home. Assistant of sorts to the musician she's fantasized about for years sounds like a dream job. She never imagined the gorgeous genius would be a reclusive beast. But the real problem is the way every nerve in her body tingles at the mention of his name.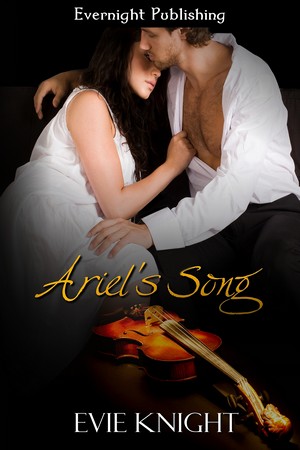 Sneak Preview:
His lips curved into a smile as he straightened to his full height. "I think you're bluffing."
The sunlight coming through the windows in his study, caressed his shoulder-length golden brown hair tied in a ponytail, bringing out the natural gold-plated highlights. Damn his beautiful hair. How could a man be a genius in music and so gorgeous at the same time? Life sucked.
Ariel held his gaze. "Does it matter?" This job would make a difference between having a roof over her head and ending up homeless by the end of the week. She cringed at the latter. She didn't want to back down or let her anxiety get the best of her. Not yet. She glanced at the entrance. "I don't hear anyone else knocking on your door."
Colin stepped toward her. "Maybe I already hired one of them."
Ugh, such arrogance. The man she'd dreamt of didn't resemble the one standing in front of her. Every word coming out of Colin's mouth took a degree off her hottest musician thermometer. Damn it. She was bankrupted and stuck in Bibury, England. Ariel needed a job, like yesterday. She'd give it one more try before admitting defeat.
"Now, who's bluffing?" If he'd hired someone she wouldn't be having this conversation with him now. Ariel tried to add distance between them, except she ran out of room and bumped into his desk.
Colin glanced at her hands on his desk then fixed his gaze on her. "Why are you here, Ariel?" He stepped forward, towering over her by a good six inches.
To continue reading what happens next, visit my next blog stop tomorrow at: Sandra Bunino
Where you can buy it
All Romance eBooks  | Amazon | BookStrand | Evernight Publishing
About Evie:
Evie Knight writes wickedly sexy contemporary romances with irresistible bad boys, sassy heroines, a bit of conflict, humor and a dash of spice. When she's not hard at work writing, she spends her time blogging, reading, listening to music, or looking for a muse.
She lives in sunny Southern California.
Evie loves hearing from her readers. Feel free to drop her a line at evie@evie-knight.com or you can stalk her on Twitter @inlovewromance
Website | Facebook | Pinterest | Tumblr | Twitter
So, what's up for grabs?
Tour wide giveaway is a Kindle or $70 Amazon gift card – OPEN INTERNATIONALLY
One ecopy of Ariel's Song (one lucky commenter at each blog stop) — OPEN INTERNATIONALLY
What do you have to do to enter?
Answer this:  What song would you/did you play at your wedding and why?
Add Ariel's Song to your TBR on Goodreads
Then, do one or all of these:
1. Like my Facebook page
2. Subscribe to my blog
3. Follow me on Twitter @inlovewromance
Don't forget to check out the rafflecopter for the tour wide giveaway: