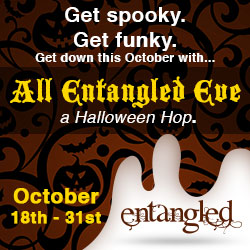 Hi everyone! I'm so happy to be participating in Entangled's Halloween Blog Hop! Besides being part of something with a large group of authors that I admire so much, I'm excited to share my love of Halloween with you all. It's my favorite holiday.
Now that my kids are older, we don't go all out like we used to, but we still love stopping in every single Halloween store we drive by so we can check out all the fun stuff. And we still love carving pumpkins. And we still love watching a scary movie or two on TV.
So I've been looking through old pictures the past couple of weeks and thought I'd share a few of my favorite Halloween ones with you. The first is of my two boys when they were little. My friend actually made that Elmo costume and my oldest wore it first. My hubby helped make my older son's costume. He's a dead baseball player. Totally his idea so my hubby ran with it. That's a piece of a real baseball bat going through his chest in case you couldn't tell.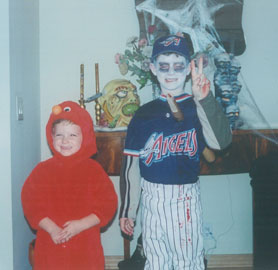 This next photo is one of my very favorites. It's my hubby and my oldest son. I can't stop smiling whenever I look at it.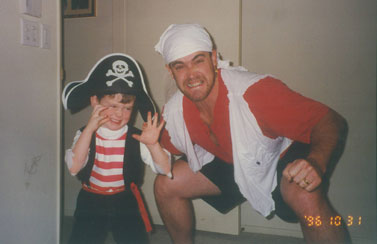 And this last one is of me and my honey dressed up for one of our Halloween parties. His costume totally cracks me up. I couldn't believe he wore it! And uh, sorry for the hand on the butt, but I didn't have any others of just the two of us from that night.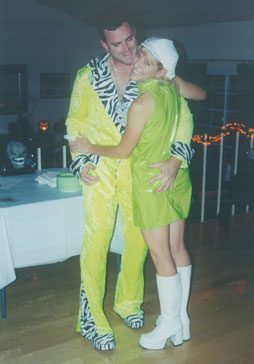 So to celebrate this wonderful holiday that I love so much, I've got a giveaway! Follow the Rafflecopter below and you'll entered to win a Halloween gift bag filled with a couple of Shane and Kagan's favorite things! Shane and Kagan are my hero and heroine from my newest release, HER ACCIDENTAL BOYFRIEND. Here's what you'll find inside the bag: a spice scented candle, jumbo skull sprinkles to add on top of your favorite ice cream, jelly belly jelly beans and a little Halloween decoration. Two winners will be chosen. The contest runs through October 31st and I'll post the winners names on November 1st. The giveaway is open internationally.
Oh, by the way, I thought you might like to know that Shane is dressing as Bam Bam for Halloween and Kagan is Pebbles. Yes, I said Bam Bam. Meaning he'll be shirtless and wearing very little else. ;)
Don't forget to stop by the other Entangled authors' blogs for giveaways and Halloween fun! You can check out the list of other participants HERE. Happy Fall everyone!