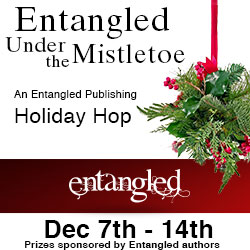 Thanks so much for stopping by! I'm thrilled to be participating in Entangled Publishing's very first blog hop! It's also my very first blog hop, and I'm super honored and excited to be included among so many amazing authors . *launches celebratory cupcakes* Please click on the hop button above for the list of authors and to click on their links. There are tons of great giveaways that you don't want to miss!
I love this time of year! I love getting together with family. I love all the good food. I love that even though my boys aren't so little anymore, they still love the traditions we started when they were young. Oh, and I love holiday jokes! Here's one of my favorites…
Knock-Knock
Who's there?
Cashew.
Cashew who?
Cashew looking at the presents and you'll be in big trouble!
hee, hee! And here's my present to you guys…
I'm giving away one eBook copy of my debut novella, WORTH THE RISK, and a $15 gift card to Barnes & Noble, Amazon, or a book choice from The Book Depository (up to $15).
(**Next week I may have a big announcement and will be adding to the prizes, so please check back if you get a chance!)
All you have to do to enter is leave me a comment!
Want extra entries? Follow the Rafflecopter instructions!
Thanks again for hopping by! And don't forget to check out all the other wonderful Entangled authors and their giveaways! Happy Holidays and Best Wishes!
Hugs,
Robin