It's the month of hearts and love and romance and I'm super excited to be celebrating Valentine's Day with lots of other authors from Entangled Publishing! We're giving away goodies and spreading Valentine's cheer!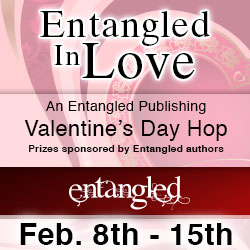 I've named my giveaway SET THE MOOD AT MIDNIGHT. It includes a bottle of island waves bath salts, a sea air scented candle and a box of decorative gems. I love the colors and for some reason they just said "midnight" to me. Here's a picture: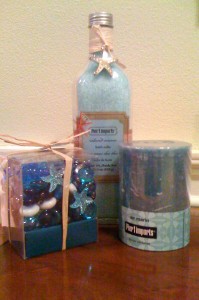 To be entered to win all you have to do is leave me a comment! (It would be great if you left me your email address, too.) The giveaway is open internationally and a winner will be selected and their name posted on Saturday, February 16th. *I also have a second giveaway going on right now if you want to take a peek here. You could be chosen to name a character in my next book!* In fact, if you do enter and add my most release, YOURS AT MIDNIGHT, to your to-read list on Goodreads, let me know in your comment and you'll get an extra entry in my SET THE MOOD AT MIDNIGHT giveaway!
Please be sure to click here to check out what the other authors are giving away during the Entangled in Love blog hop!

Interested in even more fun and giveaways? Things are kicking off tonight with a Twitter Party! All the details can be found here! It's at 9 PM EST and the hashtag #EntangledInLove will give you all access! I'm planning on being there and would love to tweet with you! Seriously, I'm twitter challenged, so y'all need to help me out. :)
Since I'm working on Thursday, the 14th (bummer!), hubby is taking the day off on Friday, the 15th, and we're going to spend the day together. Depending on the weather, we may go to the beach, or a movie, or both! I hope whatever you do this Valentine's Day brings you lots of love and laughs!
Thanks for helping to make mine pretty darn awesome!
hugs,
Robin