Today, I'm super excited to talk about my publisher, Entangled Publishing.
Entangled Publishing offers lots of different books…
Entangled Books, Entangled Select, and Entangled Teen are Single Title novels
Indulgence are category novels
Covet are paranormal category novels
Dead Sexy are category romantic suspense novels
Ever Afters are novellas (this is where WORTH THE RISK falls!)
Flirts are shorter novellas
I've been super lucky to work with two amazing editors at Entangled. Adrien-Luc Sanders is beyond awesome. I'd always dreamed of working with someone who got me, but helped make my writing and stories stronger, and he's done that. I hope to work with him for a long, long, long time! I was also very lucky to work with Stacy Abrams when Adrien was out of commission for a few weeks due to illness. She was all sorts of awesome, too, and I loved how she could change just one word in a sentence and make all the difference in getting my meaning across better. I've learned so, so much from both of them! I'm very grateful for their guidance and expertise. And Adrien has been extremely patient and kind with all my questions and goofiness. I'm sure my newness has made him chuckle once or twice.
The rest of the gang at Entangled goes above and beyond. The generosity and camaraderie from the management, editors, publicists and other authors is truly outstanding. I am so very lucky.
I feel like I'm part of a family.
Entangled also has a great blog ~ Entangled in Romance. There's tons of fun stuff, including contests and interviews with their authors. (You'll find me there sometime soon! Holy cow, I can't believe it!)
And because I love Entangled and their books so much, I'm going to give away two digital releases to two lucky commenters! The first is a YA:
Obsidian (A Lux Novel, Book One) by Jennifer L. Armentrout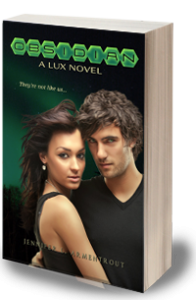 Starting over sucks.
When we moved to West Virginia right before my senior year, I'd pretty much resigned myself to thick accents, dodgy internet access, and a whole lot of boring…. until I spotted my hot neighbor, with his looming height and eerie green eyes. Things were looking up.
And then he opened his mouth.
Daemon is infuriating. Arrogant. Stab-worthy. We do not get along. At all. But when a stranger attacks me and Daemon literally freezes time with a wave of his hand, well, something…unexpected happens.
The hot alien living next door marks me.
You heard me. Alien. Turns out Daemon and his sister have a galaxy of enemies wanting to steal their abilities, and Daemon's touch has me lit up like the Vegas Strip. The only way I'm getting out of this alive is by sticking close to Daemon until my alien mojo fades.
If I don't kill him first, that is.
The second one is the NY Times Bestselling category novel from Entangled's Indulgence line:
The Marriage Bargain by Jennifer Probst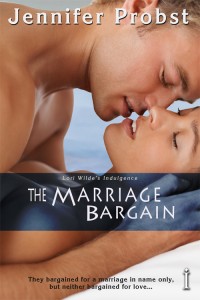 A marriage in name only…
To save her family home, impulsive bookstore owner, Alexa Maria
McKenzie, casts a love spell. But she never planned on conjuring up her best friend's older brother—the powerful man who once shattered her heart.
Billionaire Nicholas Ryan doesn't believe in marriage, but in order to inherit his father's corporation, he needs a wife and needs one fast. When he discovers his sister's childhood friend is in dire financial straits, he's offers Alexa a bold proposition.
A marriage in name only with certain rules: Avoid entanglement. Keep things all business. Do not fall in love. The arrangement is only for a year so the rules shouldn't be that hard to follow, right?
Leave me a comment answering this question… Would you rather live next door to a hot alien or be caught in a love spell?… and you're entered to win one of the books. A winner will be randomly selected and posted on Sunday, April 22, when the next letter in my alphabet countdown will be "R." Squee! We've only got R-I-S-K to go!
hugs,
Robin