I had a great time at Barnes and Noble promoting Worth the Risk and talking about e-books! The staff was awesome, the people who stopped by to chat with me were awesome, and my hubby was awesome for taking pictures and shooting video.
What exactly did I do at my event? Here's how it went…
B&N set me up at the front of the store with a table. I brought Worth the Risk swag to give away and my Nook to show people. The goal was to talk about my book, e-books, and the Nook. Basically a meet and greet to educate customers on the growing popularity of e-readers and e-books.
I was delighted to talk about my Nook with people because I love it so much! And I sold two of them! Anyone who bought a Nook while I was in the store got my book included with their purchase. (An arrangement I made with the store and they had a prepaid gift card at the register to use for people who bought a Nook.) In addition, B&N supplied me with little pieces of paper that had the name of my book, the price, and a barcode. I kept those on my table and anyone who already had a Nook and wanted to buy Worth the Risk simply took the paper up to the register and they were given a receipt in return with a code to download the book when they got home. Cool, huh? It worked great and B&N told me I sold eight books, which I think is huge for a two-hour "signing."
Here's a peek into my day… Sorry the video is only of me. In all the excitement we forgot to video when I was actually interacting with people. *smacks forehead* Next time!
http://www.youtube.com/watch?v=M3ipz-qpxEg
Now for some pictures…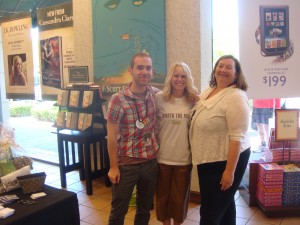 That's me and awesome B&N staff members Shawn and Jane. They were so nice and supportive and enthusiastic! Jane made several announcements while I was in the store encouraging customers to come and meet me. It was so cool to hear my name over the loudspeaker!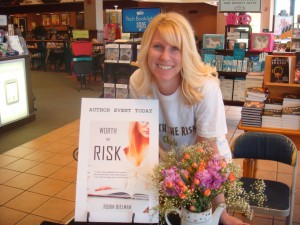 Me at my table. I brought lots of swag with me. Postcards that I signed, Worth the Risk sticky notepads, chocolate, Forget-me-not flower seeds, and I had a giveaway of a Worth the Risk gift pack and Worth the Risk Chick T-shirt. I also brought a clipboard for people to sign up for my newsletter. (Newsletter, you ask? What newsletter? Coming soon…)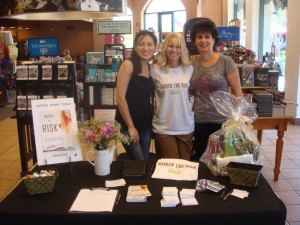 And here's a good shot of my table! That's me, the wonderful Charlene Sands, and wonderful blogger and reviewer Evie Knight. (It was so great to meet you in person, Evie!)
I could not have asked for a better day! Thank you to B&N staff members, Sandi, Shawn, Jane and Jason! Thank you to all the people I didn't know who stopped by to say hi and ask about Worth the Risk! And thanks to my family and friends who took time out of their Saturday to come and support me! You all rock!
hugs,
Robin