I'm a list maker. They help keep me organized and more importantly, remind me of things. Sometimes, though, it's fun to make lists of favorite things. So being that it's Valentine's week, today's post is my Love list.
I love… MacGyver (mine, not the Richard Dean Anderson version), my two boys, french fries, writing, strawberries, sunshine, Harry Dresden, the beach, accents, mini Labradoodles, movies, clocks, hydrangea, dirty jokes, ice blended coffee drinks, running, Red Vines, falling stars, my friends, Daniel Craig, bridges, travel, seashells, pumpkin muffins, full moons, Mtn. Dew, Alfred Hitchcock films, stephanotis, Remy Chandler, crazy hair day, TV, candles, aquariums, Sweet Pea body lotion, tennis shoes, my family, mountains, pencils, baseball games, jeweled bookmarks, Kaskade, quinoa, laughter, white chocolate raspberry cheesecake, being a Brat, warm temps, Halloween, chapstick, cupcakes and…
reading.
I also love to give presents. I'm much better at giving than receiving.
This week two new books from the Flirts/Ever After line at Entangled Publishing released, and I'm super excited to share them with you! Entangled offers lots of great reading choices in single title, category, YA, and novellas. The Flirt and Ever After imprints are novellas ~ shorter romantic reads that take a little less time to get you to the happy ending.
Because it's Valentine's week and because I think these authors rock, and because I love cupcakes, reading and gift-giving, I'm having a giveaway! Before I tell you what it is, though, let's take a peek at these two new books…
First up is ON ONE CONDITION by Diane Alberts.
OCD kindergarten teacher Johanna hates Valentine's Day. She hates romance, hates commercialism, and definitely hates her school's annual charity date auction. She never expects her pre-auction night of drinking to land a sexy Brit in her bed. Or for that Brit to show up at the auction, bid thousands just to talk to her again, and get down on one knee in front of everyone and ask her to marry him.
Viscount Damon Hayes has never met anyone like Johanna. She's neurotic, fascinating, and fun. She also doesn't care about his title and doesn't want his money, which makes Johanna perfect to fulfill a surprise clause in his father's will: marry within three months and remain married for a year, or lose his fortune. A relationship is out of the question, but when passions ignite and the two fall in love, their marriage of convenience becomes anything but.
Next we have TABLE FOR ONE by Ros Clarke.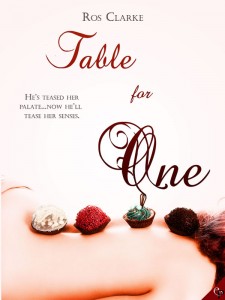 When food critic Claudia Thomas gets dumped on Valentine's Day, she finds herself occupying a table for one at London's hottest new restaurant. If her job wasn't on the line, she'd skip the whole affair, but her editor's waiting for a review—and with luck, an interview with sexy chef Ward Nicholls.
Ward, intrigued by the single woman in a restaurant full of couples, sets out to tease her palate. Claudia has never tasted anything so luscious as the special meal Ward prepares for her, but when the seduction moves from the restaurant to his bedroom, Claudia discovers the only thing more tempting than his food is the chef himself.
Their connection is instantaneous, sizzling, and spicy—until Claudia comes clean about her job, reopening a wound Ward had thought long-healed. Could one accidental lie of omission end a delicious relationship before it even has a chance to start?
*double sigh*
Now on to the giveaway… Leave me a comment telling me what kind of cupcake you love best and you're entered to win one of three great prizes.  I'll randomly pick three (3!) winners and announce their names next Friday, February 24th. What am I giving away? One ebook copy of each book (winners can choose what's best for them – Amazon or B& N) and one $25 Barnes and Noble gift card.
I've got both these books on my Nook and can't wait to read them! Maybe with my favorite cupcake ~ dulce le leche.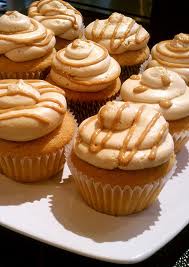 hugs,
Robin