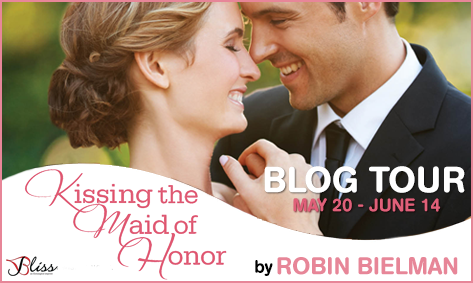 My official Kissing the Maid of Honor blog tour kicks off on Monday with interviews, guest posts, top ten lists, giveaways and more, but there are two stops this week that I wanted to share with you, too. See below for the wonderful list of blogs I'll be visiting. And in keeping with the wedding vibe I've got going on, there's a tour-wide giveaway! Five lucky readers will be chosen to be KTMOH blog tour bridesmaids and will receive a bridal party gift box full of girlie swag! (limited to US and Canada) One lucky international winner will be selected to receive the coveted position of KTMOH Blog Tour Maid of Honor which includes the bridal party gift box and a $25 gift card to the on-line store of her (or his) choice! You can enter at each blog, so I hope you'll keep me company on my tour.
Here's where I'll be…
Wednesday, May 15th Through Heart-shaped Glasses
Friday, May 17th So Many Reads
Monday, May 20th Mamma's Reading Break
Monday, May 20th GraveTells
Tuesday, May 21st Fade into Fantasy
Thursday, May 23rd Literary Etc.
Thursday, May 23rd Magical Musings
Tuesday, May 28th All Things Romance
Wednesday, May 29th The Book Cellar
Thursday, May 30th Harlequin Junkie
Thursday, May 30th The Fictionators
Friday, May 31st Reading Between the Wines
Tuesday, June 4th The Book Pushers
Wednesday, June 5th Ramblings From This Chick
Thursday, June 6th What I'm Reading
Friday, June 7th Feeling Fictional
Tuesday, June 11th Cocktails and Books
Thursday, June 13th Ex Libris
Friday, June 14th Manga Maniac Café
Plus, next week I'll be having some fun with my Entangled pal, Jennifer Shirk, so please keep an eye out on Facebook for what we're up to!
Happy reading!
Robin