2013 Finalist for Best Novella in the Book Buyers Best Awards
2013 Winner for Best Novella in the Aspen Gold Readers Choice Awards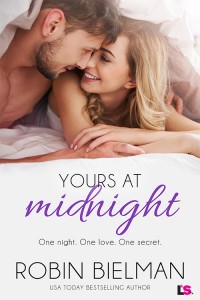 Yours At Midnight
Publisher: Entangled Publishing
Genre: Contemporary Romance
ISBN: 978-1-62266-862-5

Lyric Whetsone only had eyes for Quinn Sobel's brother Oliver, until a car crash took Oliver's life on New Year's Eve. Then, a moment of shared grief between Quinn and Lyric became something more impassioned, something that frightened Quinn so much he ran from Lyric's bed and her life, disappearing for four long years.
Now Quinn's back for another New Year's Eve, struggling for closure, desperate to leave his grief in the past and make amends with the girl of his dreams.
But Lyric has a secret–one that could drive Quinn from her life forever. Will Quinn run away from the love and acceptance he's always wanted…or will he claim his New Year's kiss and make her his at midnight?
Purchase in Digital/eBook format:





Praise for Yours At Midnight
Robin Bielman is definitely a romance author to watch out for and I can't wait to read more books by her! ~Anjana, Kindle and Me
Authentic characters, sizzling chemistry, and loads of heart make Robin Bielman a must-read! ~NYT Bestseller Vicki Lewis Thompson
Robin Bielman's writing is wonderfully heartfelt and touching, her words reach inside you and squeeze your heart until you smile/cry/sigh. She is an amazing storyteller and I just discovered a new favourite author! ~ Stella, Ex Libris
Robin Bielman writes with intensity that keeps the pages turning, yet there's a bit of softness that allows you to take comfort in the characters and see their story unfold. I will definitely be reading more by this author! ~ Ginger, GReads

Lyric pushed back her chair and stood. "Tell Grandma guests don't do the dishes. I can do them by myself." She picked up her plate and reached for Quinn's.
"I don't mind." Quinn wasn't about to let Lyric dictate his actions. Besides, she had no idea how much doing his part and being treated like everyone else meant to him. Caroline had always known what to say and do to lift his spirits.
"Whatever." Lyric blew a strand of hair out of her face.
With their hands full of dishes, he followed her out of the living room. But not before he overheard her sister Ella say, "Something is going on with those two."
God, he hoped so. Things weren't finished between them. He'd follow through with his apology, but then he wanted more from her. More time, more debates… just more.
"You really don't have to help," Lyric said over her shoulder.
"I want to." He'd been aching for some alone time with her the entire night—and if that meant in front of a sink doing dishes, so be it.
The kids cleared out of the kitchen, one of them shouting about a game of Hide and Seek. Douglas and Caroline smiled and left. With help from Ella, Quinn brought in the rest of the dishes from the dining room.
"Have fun, you two," she said and waggled her fingers.
Since Lyric had already filled one side of the sink with soapy bubbles and started washing, Quinn found a dishtowel and dried the larger items. In between, he put plates and utensils into the dishwasher after she'd rinsed them.
They worked in silence, tension definitely radiating from Lyric, like water about to boil over a pot.
"Did I do something wrong?" he asked.
"Yes."
"Care to elaborate?"
"No."
It had to be his abrupt departure four years ago. She'd held a grudge against him numerous times when they were younger. He didn't want her keeping this one.
He moved behind her, his arms on either side of her body, his hands braced on the edge of the counter. She shuddered, but didn't try to move away. He lowered his head and whispered in her ear. "I've missed you. Not a day has passed that I haven't thought about you. And for the record, I think your name is perfect."
She slowly turned around, still trapped between his arms. They stared at one another for a long beat. The paleness of her blue eyes never ceased to suck him in. He fell into their fervor, his mouth inched closer to hers.
Her arms slid around his neck. The temperature in the kitchen rose twenty degrees. His blood heated. God, how he'd dreamed about kissing her mouth again. Tasting her.
Making her his.
She released a shaky breath. Anticipation, need, and desire welled up inside him. Four years ago, her kisses had set him on fire. Right now, in this kitchen, he wanted to go up in flames.
"Quinn," she whispered.
"Yeah?"
"I want to stay angry with you."
"I know."
"You're a jerk."
"Sometimes."
They were nose-to-nose. Her tongue slid across her bottom lip. His hips pressed against hers, trapping her more intimately. He couldn't hold out much longer.
Another second or two and he'd combust. Stop me now, Lyric, he thought. Or I won't be able to.
She sank into him.
"Mama?"
Lyric jerked away and twisted out of his arms. He turned and fell back against the counter.
"Yes, baby?" She knelt and wrapped an arm around Max. "What's wrong?"
"Everyone is hiding and I can't find them. Will you help me?" A big fat tear slid down the little boy's cheek.
"Of course I'll help you." She squeezed him tightly and then stood, taking his hand in hers. "Come on, let's go look."
Just before she disappeared from view, she looked over her shoulder. A tiny, closed mouth, apologetic smile lifted the corners of her lips.
Holy shit. Lyric had a son.