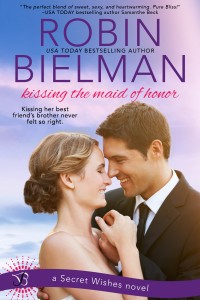 Secret Wishes Series
Book One
Publisher: Entangled Publising
Genre: Contemporary Romance
ISBN:  978-1-62266-088-9
Kissing her best friend's brother never felt so right…
Sela Sullivan is resolved to be the best maid of honor ever, even if it means tolerating the best man. Insufferable, too-handsome Luke Watters is not only the guy who humiliated her at a kissing booth in high school, but he also happens to be her best friend's older brother. Positive he's the same arrogant jock, Sela vows to focus on her duties and steer clear of the frustrating—and frustratingly tempting—Luke.
As a world-renowned extreme-sports photographer, Luke is used to undertaking life-risking adventures. But risking his heart for the beautiful Sela Sullivan, who clearly still hates him for his rejection all those years ago? He didn't see that coming. Sela inspires a passion he's never known, and the more time they spend together, the more he craves her. But can he prove to the maid of honor he's become a man of honor?
Buy in Digital/eBook and Print format:





Buy in Audiobook format: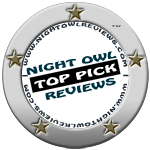 Luke didn't see the point of learning choreographed dance steps, but it made his sister happy, her smile and laugh contagious, and he found himself enjoying even his missteps.
His partner didn't hurt matters, either. Paired with the beautiful maid of honor, he gave silent thanks for his new role as best man. If he'd had to watch Sela dance with someone else, he might have gone insane.
A disconcerting thought he decided not to examine too closely.
"Remember, the basic step is one of the most beautiful of the rumba. So if nothing else, stick to it, and the dance floor will be yours," the instructor said.
Luke peeked at Sela out of the corner of his eye. The slight imperfections in her profile made it the most fascinating he'd seen. With his photographer's eye he imagined shooting her face from different angles and in different lighting and had a feeling every single one would spark beauty to a thousand different beholders. She might be a girl from his hometown, but there was something about her that was worldly.
She turned her head, catching him in the act of staring. He darted his attention away.
"Now let's step into the closed position once again and begin," the teacher said.
At first they moved rigidly, fighting the natural rhythm of their bodies like they still needed to battle to keep things normal. But as the music continued, their moves melted into a fluid sway of hips and torsos and Luke couldn't think of anywhere else he'd rather be.
"Close your eyes and feel the movement. Let the music guide you," the teacher said softly as she wove around the dance floor.
Luke waited for Sela to shut her eyes. Christ, she was pretty. The woman made scrubs look sexy. But it was what she had on the inside that suddenly made his mouth drier than the Sahara Desert.
Her eyes fluttered open. "You can wipe that smug look off your face. You're not that good of a dancer."
"No?" Without missing a beat, he spun them around, their steps in perfect tandem.
An invisible string kept them in harmony. The flush of Sela's cheeks kept energy humming through his veins.
Her eyes narrowed and her lips pursed, and Luke imagined she'd much rather have a sword in her hand so they could fence instead of move with each other.
"You know what they say about show-offs, don't you?" she said.
"Tell me." He twirled them away from the others, his fingertips increasing the pressure on her shoulder blade.
"They're compensating for something else. Usually something small." Her gaze dipped below his waist as they both stepped back.
He laughed. For the second time in the last hour she'd done what few women could—raise his hackles in the most engaging way.
"Sweetheart, there's nothing small about me," he whispered when they came together. "And if you need proof, I'd be happy to show you."