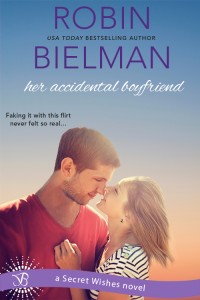 Secret Wishes Series
Book Two
Publisher: Entangled Publishing
Genre: Contemporary Romance
ISBN: 978-162266-165-7
2014 RITA® Finalist for Best Short Contemporary Romance
2014 Award of Excellence, Finalist Contemporary Series, Colorado Romance Writers
Faking it with this flirt never felt so real…
Kagan Owens has a secret. One she thought she'd escaped by leaving New York, but when her past follows her to her temporary new life, Kagan lets a teeny lie slip. And now the town's biggest playboy and flirt, Shane Sullivan, has become her pretend boyfriend—just until she's ready to return to NYC. But the handsome, fun-loving Shane makes it tough to determine where their friendly agreement begins and ends…
Shane has no intention of settling down—in fact, his job depends on it, and nothing's more important than his work. Still, he can't help but agree to Kagan's scheme, if only to find out more about the mysterious beauty. But when every touch from her sets his heart and body on fire, he realizes playing an accidental boyfriend may be more than he bargained for—and more than he can give.
Buy in Digital/eBook format:






What was she doing? Danger, Kagan Owens! Flirting with Shane when her fortitude was already caught in his too-likeable presence like a bear's paw in honey meant trouble deeper than the sea.
"Kay?" he said when she hadn't continued.
"Nothing." She popped to her feet. "So what's this surprise you have for me? It must be something really big since you've got nothing on you." She stretched her neck in a gesture to look around him.
He took hold of her waist, brought her close. She loved that he liked to touch her, that he couldn't seem to help himself. It was foolish, but true. His muscled chest brushed her soft one and her legs went a little limp. Good thing he held her.
"I'm going to discover that nothing before this week is over," he said, his voice husky.
Oh my. Zings of pleasure wove a maze through her body. You should go for it, Charlotte had said. And more and more Kagan could see the value of benefits to their friendship. For one, it would ease the growing ache between her legs whenever he stood near. For two, she hadn't had sex in way too long and who better to help her get back in the game than the sexiest guy she'd ever met? And third, if they really wanted to sell this relationship, the afterglow she was sure would flare like the North Star for days ought to do the trick.
"Umm…" Her brain cells had taken a vacation.
"You are damn cute when you're flustered, Jelly Belly."
She twisted out of his arms. "You're infuriating."
"And good-looking."
"Maddening."
"Hot." He smirked.
Oh my God. How was it he could be so full of himself and humble at the same time? His teasing voice wiped out any ego.
"The surprise?" she asked, hands on her hips.