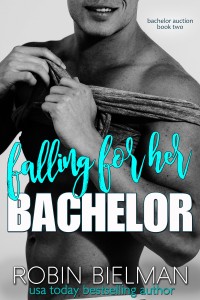 Falling for Her Bachelor
Publisher: Tule Publishing
Genre: Contemporary Romance
When Navy firefighter Nick Palotay returns to Marietta to go on the bachelor auction block for a good cause, he expects it to be risk free. But when he needs someone safe to bid on him and his sister's best friend is coaxed into stepping up, Nick isn't prepared for the effect Cassidy has on him. She sends his mind to all kinds of dirty places…places his battered heart can't afford.
Freelance photographer Cassidy Ware is in waaay over her head. She's always been Nick's other little sister, but she's all grown up now and just a glance from him leaves her hot and bothered. Still, she can stay immune to his charms and keep him at an emotional distance because she's got an agenda, too. She'll help the too-handsome Nick with his charitable deed, and, in return, he'll help her keep an unwelcome suitor at bay.
A deal's a deal, but when their "business transaction" turns into more pleasure than duty, can they walk away from each other without losing what matters most?
Purchase in Digital/eBook format:
AMAZON   BARNES & NOBLE   iBOOKS   GOOGLE PLAY   KOBO 

They stepped inside the empty elevator and Nick pressed the button for the twentieth floor. As the doors slid closed, he turned Sid so her back faced his front. Her quick, aroused intake of breath filled the small space.
He gathered her long hair and swept it over her shoulder. Then he placed his hands on her waist and kissed the back of her neck. Softly. Gingerly. Like time didn't exist and he could spend hours right here, loving the smooth, delicate flesh of her neck. He dropped delicate presses up to her earlobe, reversed direction, and slowly moved his lips down, inhaling her scent and getting harder with every swipe of his lips and tongue on her skin. Her head tipped to the side when he kissed the sexy curve where her neck met her shoulder. His hands slid to her stomach, traveled up to her breasts. He palmed them through the material of her dress while he continued to lavish her where her pulse started to pound. Heat beat a path down his spine when she quivered and moaned in pleasure.
"I want your mouth all over me," she murmured."
"Done."
"And I want you in my mouth."
"You're killing me, babe," he said, his open mouth brushing and skimming across her upper back and neck, goose bumps rising in the wake of his kisses.
The elevator came to a stop. They both dragged in a breath.
Nick hustled them down the hallway, anxious to have one last night wrapped up in each other. They moved clumsily into the room, hands seeking, mouths colliding. And then because he couldn't tell her, he showed her how much he cared.