This week is a very special week for me. On Friday, it's the one-year book birthday for my debut novella, WORTH THE RISK.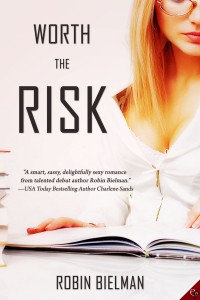 I love this story so much. Samantha and Dean are characters who want what we all do: to find the one person to make our life complete. They stumbled the first time around, but when they reconnect, they discover they can have the forever kind of love.
So, April 26th is a date I'll always remember and I thought I'd celebrate this first birthday by giving away 5 digital copies! Yep, 5 copies. All you have to do is leave me a comment. Easy peasy, right? I'll post the winners names this Friday, the 26th, so please be sure to check back. (Already read it? I'd be happy to gift it to someone on your behalf.)
Speaking of reading, I'd again like to thank everyone who has read WORTH THE RISK. Your support means the world to me! Thank you so much!
hugs,
Robin