Happy April!
I hope your spring is off to a good start! Mine is off the charts great! My very first book is coming out soon, and I'm beyond excited. To celebrate, my blog is going to get busy. Thanks to something my Entangled peep Taryn Elliott mentioned about a Blogging from A to Z Challenge, I was inspired to do my own alphabet themed blog posts to take me to the release of my novella.
Rather than go from A – Z (kudos to all you doing so!), I'm going to do things this way:
W-O-R-T-H-T-H-E-R-I-S-K
That's 12 posts until my novella releases from Entangled. I've got some fun things planned and hope you'll check back frequently! Also, because I so appreciate each and every one of you that stops by, there will be some giveaways. AND, for every comment you make during this Blog Bonanza, you will be entered to win a Worth the Risk swag pack. (This is no ordinary pack, and I'll be giving very few of them away because they'll be filled with all kinds of awesomeness. I love giving gifts.)
So without further ado… W stands for Work.
I don't often talk about my day job, but last week a patient brought something into the office that I just had to share. Working with a plastic surgeon is very rewarding. Yes, we do many elective cosmetic surgeries, but we also do surgeries that help women and men feel good about themselves again. Today, I wanted to mention reconstructive breast surgery. This type of surgery doesn't just restore how a woman looks, it restores her self esteem, her confidence, her hope. Many women have been through radiation and/or chemo and being a part of their lives is something that humbles me every day. I'm in awe of the amazing women I've met.
Here's last week's thank-you…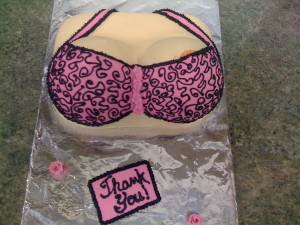 It's a cake! Isn't it awesome? I especially liked the nip slip ~ very funny! It was delicious too! So, tell me, what's one of the best thank-you's you've ever received?
O stands for… stop by on Monday, the 9th, to find out! I've got a special guest!
hugs,
Robin