If you could see me, I'd be grinning from ear to ear because I've sold my first book!
Oh, heck, hang on a second…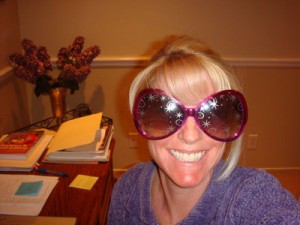 (I don't normally wear those glasses ~ only when I'm in celebration mode and because I'm really very shy when it comes to pictures of myself.)
Okay, back to my news… My contemporary novella, WORTH THE RISK, is going to be published by Entangled Publishing! I'm beyond excited to be a part of their publishing house and thrilled beyond measure that a story I love so much is going to be released into the world. My editor is all sorts of awesome too, so I'm totally on cloud nine.
I hope you'll visit here often as I share my excitement (and much more info about the story) leading up to WORTH THE RISK'S release. My brain is going in a hundred different directions thinking about fun things to do here on my blog – and prizes to give away. Because I truly appreciate each and every one of you who stop by and make me feel like I'm not alone in this great big blogosphere.
Oh, I see you've got your hand up. Yes?
Robin, what was it like to get the email offering a contract?
It was amazing! I read it over and over again to be sure I wasn't hallucinating. Then I yelled to my hubby – "Come here! Come here! Come here!" – so he could read it and assure me I wasn't dreaming. And the incredibly kinds words the editor (now known as My Awesome Editor Adrien) said about my story put a smile on my face that I'm still wearing. (See above.)
Next?
What happened after the email?
I danced around my house. Jumped up and down. Repeated "ohmygod!" "ohmygod!" a bunch of times. Then I emailed Adrien back and we arranged to speak on the phone.
What did you talk about?
Everything. He was super nice and easy to talk to, and that really helped with my nervousness. As far as my book goes, next up will be edits, which I'm really looking forward to.
Will there be a book tour?
In my head there will be! Actually, WORTH THE RISK will be released as an e-book so I hope to do some virtual touring around the Internet  I'd love it if my local Barnes and Noble let me do something (I am in there all the time), but I'm not sure what that might be. Help them sell their Nooks?
Last question?
What do your kids think about having an author for a mom?
They think I rock, of course! And told their friends before I told mine – which made me feel pretty cool.
Thanks for letting me share my news! And a special shout-out to my writer pals. I'm so very grateful for the amazing friendship and support you've given me. I wouldn't be here without you!
hugs,
Robin